THE MACKINAC COUNTY MONSTER
REPORT RECEIVED: From the G.C.B.R.O. Web Site Submission Form
DATE: 1984
TIME: Between 12:00 and 2:00 P.M.
LOCATION: Mackinac County, Upper Peninsula Michigan.
TERRAIN: National Forest, every possible terrain type is in the area.
OBSERVED: We did not see the creature, but if your back was turned to a charging bull, you wouldn't need me to tell you that he was coming for you. That's what your instincts are for. There are 4 eye witnesses to this true incident that occurred in the Hiawatha National Forest in the summer of 1984. I don't know why myself or the other's haven't come forward sooner. It has been 16 years now. I was just 18 years old when this all took place. I had come home on leave from the Military, U.S. Army. My family wanted to take a vacation to our property near Trout Lake on Michigan's Upper Peninsula. "The North Country", what we call "God's Country", is just beautiful countryside. If you have ever been there, then you know what I'm talking about. The property is about 40 miles northwest of the Mackinaw Bridge, which connects the upper and lower peninsula's of Michigan. The property is right off of Highway 40, 16 miles from the nearest town of Trout Lake.
That first night up north we sat around the fire and talked about what we were going to do the following day. We decided to go exploring at the Fibron Rock Quarry, which is about 5 miles due west of our property off of highway 40 on "Fibron Quarry Road". The rock quarry is a very large area about one mile in diameter and 40 to 60 feet in depth. The rock was mined out of the ground in the earlier part of the century. Some of the local people told me that prisoners from a local prison camp used to do the mining.
The next day:
The four people that went out that day on our 4-wheeler quad runners were myself, my younger brother Daniel, and my two best friends, Brian and Patrick. We loaded our gear for the day, some food and drink, buck knives, and we each took along a .22 caliber long rifle for target practice at the Rock Quarry. After several hours at the rock quarry we decided to go to the back side of the rock quarry and explore the forest. We had never been in this area before. We found a set of railroad tracks, and we followed them for between 5 and 10 miles. After getting really bored of riding on those railroad tracks, we stopped and were thinking about turning around. When I looked to my left, which is the south side of the tracks I saw the roof of a house of in the distance. We decided to go check it out and see if there was a fire trail or two track near the house to take us back home. We rode a short distant before coming out in a small clearing of about 3 acres.
The house sat in the middle; there were no tree's near the house. We rode around the perimeter of the field, but there was no road or two track to be found. This house was abandoned and in the middle of nowhere. It must have been over 100 years old. No one had lived there for a very long time by the look of the house. The house was boarded up very tightly. You could tell that there had been a porch on this house at one time, but it was gone now. The foundation was very high; my hands could only reach the bottom of the first floor window sills. We walked around that house twice trying to get in, but the boards were nailed down good, and we didn't have anything to pry with. On the second level there was an exterior door that was missing, and it was not boarded. You could tell that there had been a set of stairs there at one time, but they were nowhere in sight.
The problem was that we could not reach the bottom of that doorway even standing on each other's shoulder. My brother and Patrick are both 6'1". We drove a four wheeler up next to the house, and then we were able to climb over the backs of the other guys, after which we helped them up. We also handed up the rifle's. We did not want to leave them outside, and this house was very spooky-looking. We looked across the second level. It looked empty, but it was very dark up there and we could not see to the other side of this large house. It was a very nice summer day and the sun was high in the sky. Directly to our left there was a staircase going down to the lower level. You could see pretty good down there. There was some sunlight coming through the cracks in the windows.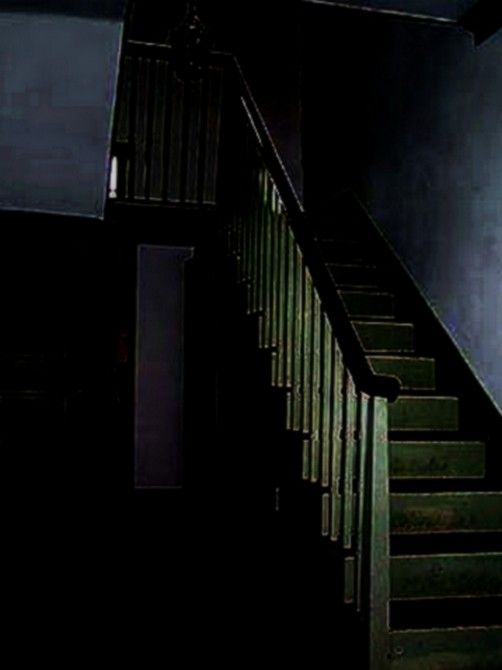 We decided to go down and check the lower level first. Halfway down the stairs, we noticed that it smelled really bad—"skunky"—definitely an animal smell like the inside of a zoo enclosure or barn; it was almost unbearable. We looked around before going to the bottom of those stairs. There were large clumps of animal fur lying all over the floor, in the cracks in the walls, and even some hanging from the ceiling. We thought it was pretty bizarre, but we were armed and there were 4 of us. At this point we did not know what we were up against. We wanted to see what was in this house so we continued on. There was another door through the room that we were standing in. It turned out to be the kitchen. We entered the kitchen door and were stunned at what we saw. There was a large dead Labrador dog lying on his belly on the kitchen table. His guts were lying next to him, and his legs had been ripped off (Not cut off), and they were lying on the floor next to the table. His rear hip on the right side had been eaten to the bone, and you could see the large bite marks in the meat. It was a very fresh kill; maybe one to three days at the most. The meat was not rotten; there were no flies or maggots. We all said lets get the f___ out of here at the same time, and at that moment we heard a loud slam on the second level. We aimed our rifles to the ceiling and said three times very loudly, "Identify yourself or we will shoot!"
We thought it was some crazy nut case at first, and we weren't taking any chances. This guy was dangerous! We looked through the room over at the staircase. The sun was shining through that exterior door on the second level, and there was a shadow running down the staircase. We could hear it breathing heavily (NO human could breath that loud). It blew air out of its nostrils and let out one hell of a cry.
My legs were shaking, and every hair on my body stood up on end. We didn't look at or say anything to each other. We started shooting out of pure instinct for survival. We had 18 shots in each rifle, and we didn't stop shooting until we were empty 72 rounds later. We quickly reloaded and moved towards those stairs, the only way in or out.
The creature was nowhere in sight; we got out of there and haven't been back there since.
We are convinced of what we all saw and felt, and no man is going to tell us any different. Believe what you want. Bigfoot lives.
Activities of Witness: We were all riding 4-wheeler quad runners, exploring Michigan's Upper Peninsula, and having a good time during the summer of 1984.
Description of Creature: Only saw the shadow on the creature.
Other Notes: I hope to return to that spot again before the end of this year. The four of us are going back; we need to know what else is in that house. This mystery is not over. There could be important clue's in that house. There are natural underground caves everywhere in that area of the country.
(Edited for spelling and grammar by the Cryptozoologist)