EMELA-NTOUKA: THE ELEPHANT KILLER, PART 1
Researched, Compiled, Edited and Illustrated by R. Merrill
The Emela-ntouka is an African legendary creature in the mythology of the Pygmy tribes, and a cryptid purported to live in Central Africa. Its name is claimed to mean "killer of the elephants" in the Lingala language of the natives of the Republic of Congo who have seen this swamp-dwelling monster attack and disembowel elephants that cross its path. The instrument of this disembowelment is a large, ivory or bone horn on the animal's head, leading to speculation that the emela-ntoouka might be a surviving relative of the triceratops or styracosaurus. In other languages it is allegedly known as the Aseka-moke, Njago-gunda, Ngamba-namae or Irizima.
Another theory, which is supported by none other than Loren Coleman, suggested that the Emela-Ntouka is not saurian at all, but a new sub-species of semi-aquatic rhinoceros. Although this theory has found much favor among modern investigators, there is some discrepancy between the allegedly bone-like description of the Emela-Ntouka's horn, and that of a rhino, which is made up a fused, hair-like substance known as keratin, as well as descriptions concerning the size of the animal's tail. Still another hypothesis indicates that the creature is a heretofore unheard of horned mammal.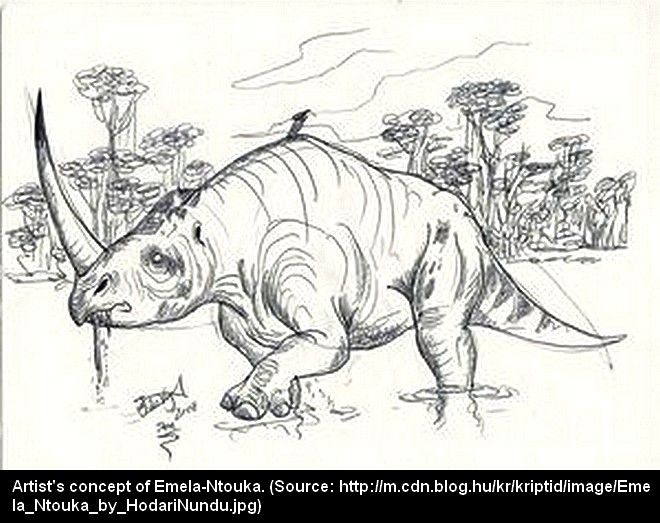 In southern Africa, near the border of Angola and Zambia, there is reportedly a similar beast, called the chipekwe. The chipekwe is supposed to live in Lake Bangweulu, Lake Mweru, the Kafue swamps, the Dilolo marshes, the Lukulu River and a number of other nearby aquatic habitats. It is said to be quite rare, an animal that even the natives seldom see, but it is supposed to be a real flesh-and-blood creature, not a supernatural being. It resembles a dinosaur, a rhinoceros and an elephant all at the same time, but it prefers to remain in the water most of the time, thus qualifying as a lake monster. The chipekwe has a single white horn or tusk, made of ivory, and its skin is rather dark in color, usually described as elephant-like. Some think that the chipekwe and the emela-ntouka may be one and the same animal.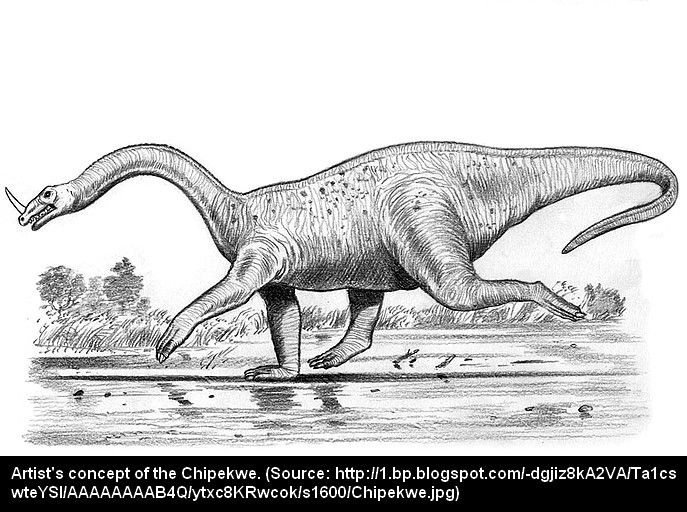 Appearance
The Emela-ntouka is said to be around the size of an African Bush Elephant, reddish-brown to gray in colour, with a heavy tail, and with a body of similar shape and appearance to a rhinoceros, including one long horn on its snout and no hair. Keeping its massive bulky body above ground level supposedly requires four short, stump-like legs. Footprints are the size of an elephant and it has three toes or claw marks. It is described as having no frills or ridges along the neck. The animal is alleged to be semi-aquatic and feed on Malombo and other leafy plants. The Emela-ntouka is claimed to utter a vocalization, described as a snort, rumble or growl.
Horn
The structure of its horn is debated among writers on the subject. If the "horn" was ivory, then it would be a tusk (tooth) and not a horn at all. Some rhinoceroses do have tusks, especially the Asiatic one-horned kinds. Most animals today do not have horns made of bone, however, several fossil reptile groups did have them (including ceratopsian dinosaurs). Finally, the horn could be made of keratin, as are the horns of African rhinos.
Home
This cryptid is alleged to mainly inhabit the vast shallow waters in the swamps and lakes of the Congo River basin, especially in the Likouala swamps in the Republic of the Congo, and possibly Cameroon. It is also said to inhabit Lake Bangweulu in Zambia. They are claimed to be solitary, herbivorous animals. The inhabitants of the area are alleged to treat the creature with great fear.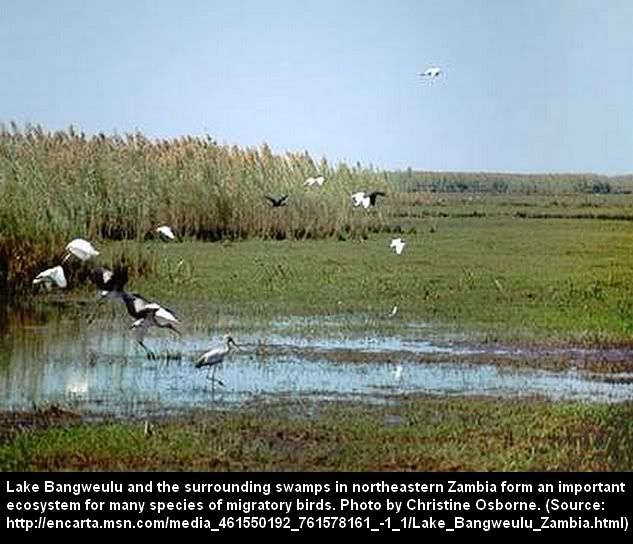 History
J.E. Hughes published his book Eighteen Years on Lake Bangweulu in 1933, in which he reported that an animal that fits the description of an Emela-Ntouka (although not adressed by this name) was slaughtered by Wa-Ushi tribesmen, along the shores of the Luapula River, which connects Lake Bangweulu to Lake Mweru.
The Emela-Ntouka was mentioned by name for the first time in 1954, in an article in the journal Mammalia, authored by former Likouala game inspector Lucien Blancou. He stated the Emela-Ntouka was "larger than a buffalo" and dwelled throughout the Likouala swamps. It was also Blancou who first mentioned the fact that an Emela-Ntouka kills elephants, buffalos or hippos when disturbed, much like the Mokele-mbembe's allegedly renowned hatred for Hippos. While both animals are both supposedly herbivorous, they are also supposed to share a fierce sense of territoriality, and it is for this that the pygmies are claimed to "fear it more than any other dangerous animal". Around 1930, an Emela-Ntouka was supposedly killed near Dongou.
Later evidence was contributed by Dr. Roy P. Mackal, who led two expeditions into the Congo in 1980 and 1981. He gathered details on various other cryptids, which were published in 1987 in his book, A Living Dinosaur, wherein he summarized the expeditions.
Possible Explanations
A popular speculation is that the mythical monster is in fact a relict ceratopsian. Proponents of this idea believe that the Republic of the Congo is home to many prehistoric animals, including living dinosaurs such as the Mokele mbembe and Mbielu-Mbielu-Mbielu (possibly sauropod or stegosaur dinosaurs). In 1981, Dr. Roy Mackal, while searching the Congo for the Mokele-mbembe, collected accounts of the Emela-ntouka. Mackal initially considered that Emela-ntouka might be a Monoclonius, or a Centrosaurus, both ceratopsians. As such, it might be related to the Ngoubou, which might be a six-horned Styracosaurus. However, Mackal also noted the pygmies did not report a neck frill, which he would have expected on a ceratopsian. Furthermore, the Ceratopsia are absent from Africa's fossil record. Author Loren Coleman suggested that the Emela-Ntouka is not saurian, but a new sub-species of semi-aquatic rhinoceros.
THE CASUALTIES
AFRICAN ELEPHANT (Loxodonta africana) and (Loxodonta cyclotis)
The African savanna elephant (Loxodonta africana) is the best-known and largest of the two African elephants. Both it and the forest elephant were previously classified as a single species, which was known simply as the African elephant. It is also known as the bush elephant or African bush elephant.
The savanna elephant is a large animal that normally reaches 6 to 7.3 m (20 to 24 ft) in length and 3 to 3.5 meters in height (9 to 11.5 ft), although a 4-meter (over 13 ft) elephant, whose body is dissected in the Museum of Natural History in Washington, D.C., was discovered in Angola in 1955. Weighing between 7,000 and 10,000 kg (22,000 lb), it is the largest land animal in the world. It can move at a rate of 6 km/h (4 mph), but it can reach a top speed of 40 km/h (25 mph) when scared or upset.
The animal is characterized by its large head; two large ears that cover its shoulders and radiate excess heat; a large and muscular trunk; two prominent "tusks" (incisors), which are well-developed in both sexes, although more commonly in males; a short, almost nonexistent neck; a large, barrel-like body; four long and heavy legs that resemble columns; and a relatively short tail.
Until recently, it was thought that the so-called Forest Elephant (Loxodonta cyclotis) was simply a subspecies of the African Savannah Elephant (Loxodonta africana). DNA testing has now shown that there are in fact three extant elephant species: the two African types (formerly considered to be separate populations of a single species, the African Elephant) and the South Asian species, known as the Indian or Asian Elephant. The North African elephant of Hannibal fame was a now-extinct fourth species or a subspecies of the Forest Elephant (Loxodonta (africana) pharaoensis); it disappeared around the 1st or 2nd century A.D.. The disputed dwarf elephants of the Congo basin, often assumed to be a separate species (Loxodonta pumilio), are probably Forest Elephants whose diminutive size and/or early maturity is due to environmental conditions.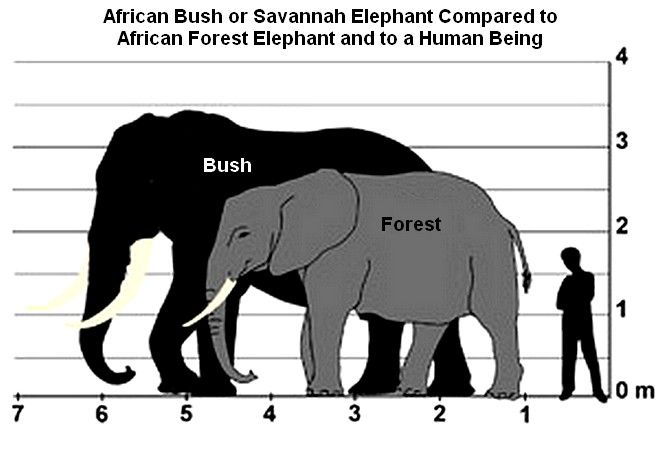 Differences include the Forest Elephant's long, narrow mandible (the Savannah Elephant's is short and wide), its rounded ears (a Savannah Elephant's ears are more pointed), a different number of toenails, different tusks, and considerably smaller size. Male Forest Elephants rarely exceed 2.5 meters (8 feet) in height, while Savannah Elephants are usually over 3 meters (just under 10 feet) and sometimes almost 4 meters (13 feet) tall.
African Elephants are herbivorous. The diet of a savanna elephant varies according to its habitat; elephants living in forests, partial deserts, and grasslands all eat different proportions of herbs and tree or shrubbery leaves.
The adult savanna elephant lacks predators thanks to its great size, but the calves (especially the newborn) are vulnerable to lions', leopards' or crocodiles' and more rarely hyenas' attacks. This predation and the lack of water in drought seasons cause a considerable infant mortality in this species, in spite of the efforts made by all the females of the group, who usually attack any dangerous animal who dares to approach them. Amongst all the species, savanna elephants show special aversion towards rhinoceros, even to the point that they will attack them on sight. The behavior can be observed mostly on males, especially the younger ones.
CAPE BUFFALO (Sycerus caffer)
The Cape Buffalo is a large, hoofed mammal that lives on the African savanna. This plant-eater usually lives in large herds of up to a thousand animals. Some herds consist of only males, others consist only of females and their young. The cape buffalo is known as the most dangerous animal of 'the big five,' its behaviour can be very aggressive killing several people a year. They have very few predators and are capable of defending themselves even from lions.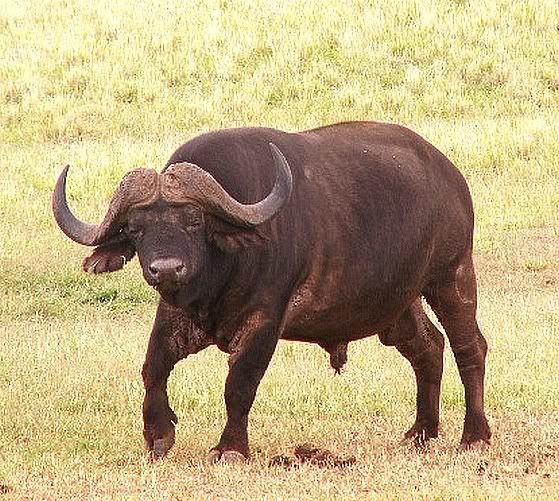 Population and Distribution: Found in Ethiopia, Somalia, Zambia, Zimbabwe, Namibia, Botswana, Mozambique, South Africa, Kenya and Tanzania.
Cape Buffalo can run up to 37 miles per hour (60 kph). Male buffalo fight one another during mating season, ramming each other with their large horns. Oxpeckers are birds that often perch on the Cape Buffalo. These birds eat parasites on the buffalo's skin (like fleas and ticks).
The Cape Buffalo is about 4 to 6 ft (1.2-1.8 m) tall at the shoulder and 8 to 11 feet (2.4-3.4 m) long. Bulls are larger than cows. Males weigh about 1,500 pounds (680 kg); females weigh about 1,000 pounds (450 kg). Both bulls and cows have horns. The hide is very thick and the hair is black. Buffaloes have a life span of about 16 years.
These herbivores graze on grass, shrubs and other plants. They swallow their food without chewing it and later regurgitate and chew a cud. Cape Buffalo drink a lot of water and also spend a lot of time wading in water to cool themselves off in hot weather.
Large crocodiles and prides of lions prey upon Cape Buffalo, usually catching injured or isolated buffalo. The Cape Buffalo will fight its predators using its large horns.
HIPPOPOTAMUS (Hippopotamus amphibius)
The hippopotamus (Hippopotamus amphibius), from the Greek ("hippopotamos", hippos meaning "horse" and potamos meaning "river"), often shortened to "hippo", is a large, mostly plant-eating African mammal, one of only two extant species in the family Hippopotamidae (the other being the Pygmy Hippopotamus).
The hippopotamus is semi-aquatic, inhabiting rivers and lakes in sub-Saharan Africa in large groups of up to 40 hippos. During the day they remain cool by staying in the water or mud; reproduction and childbirth both occur in water, where territorial bulls preside over a stretch of river. They emerge at dusk to graze on grass. While hippos rest near each other in territories in the water, grazing is a solitary activity and hippos are not territorial on land.
The hippopotamus is recognizable for its barrel-shaped torso, enormous mouth and teeth, hairless body, stubby legs and tremendous size. It is similar in size to the White Rhinoceros; only elephants are consistently larger. Despite its stocky shape and short legs, it can easily outrun a human. Hippos have been clocked at 30 mph (48 km/h) while running short distances, faster than an Olympic sprinter. The hippopotamus is among the most dangerous and aggressive of all animals, and are thought to be Africa's most dangerous animal.
Hippopotamuses are one of the largest extant mammals in the world. Hippos are considered megafauna, but unlike all other African megafauna, hippos have adapted for a semi-aquatic life in freshwater lakes and rivers.
Because of their enormous size, hippopotamuses are difficult to weigh in the wild. Most estimates of the weight come from culling operations that were carried out in the 1960s. The average weights for adult males ranged between 1500–1800 kg (3,300–4,000 lbs). Females are smaller than their male counterparts, with average weights measuring between 1300–1,500 kg (2,900–3,300 lbs). Older males can get much larger, reaching at least 3,200 kg (7,100 lbs) and occasionally weighing 3636 kg (8000 lbs). Male hippos appear to continue growing throughout their lives; females reach a maximum weight at around age 25.
On the National Geographic Channel television program, "Dangerous Encounters with Brady Barr", Dr. Brady Barr measured the bite of an adult female hippo at 1,821 lb (826 kg). after abandoning an attempt to measure the bite of an adult male due to its aggressiveness.
Hippos average 3.5 meters (11 ft) long, 1.5 meters (5 ft) tall at the shoulder. The range of hippopotamus sizes overlaps with the range of the White Rhinoceros; use of different metrics makes it unclear which is the largest land animal after elephants. Even though they are bulky animals, hippopotamuses can run faster than a human on land. Estimates of their running speed vary from 30 km/h (18 mph) to 40 km/h (25 mph), or even 50 km/h (30 mph). The hippo can maintain these higher speeds for only a few hundred meters or yards.
Hippos leave the water at dusk and travel inland, sometimes up to 8 kilometers (5 mi), to graze on short grass, their main source of food. They spend four to five hours grazing and can consume 68 kilograms (150 lb) of grass each night. Like almost any herbivore, they will consume many other plants if presented with them, but their diet in nature consists almost entirely of grass, with only minimal consumption of aquatic plants. Hippos have (rarely) been filmed eating carrion, usually close to the water. There are other reports of meat-eating, and even cannibalism and predation. The stomach anatomy of a hippo is not suited to carnivory, and meat-eating is likely caused by aberrant behavior or nutritional stress.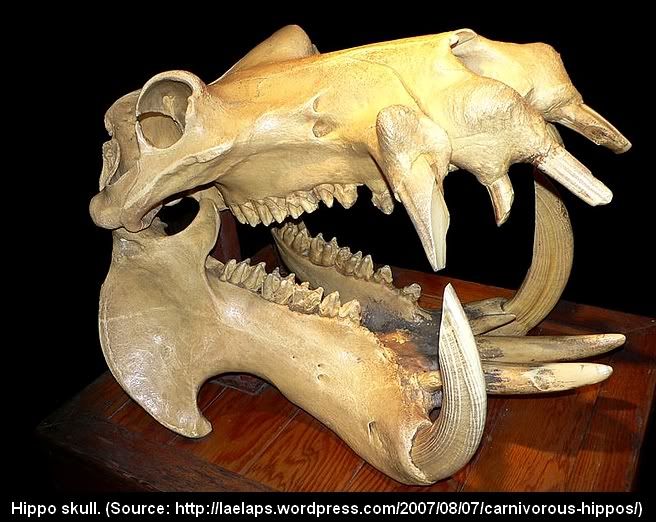 Adult hippos are hostile toward crocodiles, which often live in the same pools and rivers as hippos. This is especially so when hippo calves are around. Hippos have been known to be very aggressive towards humans, and it is often claimed that hippos are the deadliest animal in Africa; however, according to Smithsonian Magazine, while the animal is very dangerous, reliable statistics for this are unavailable.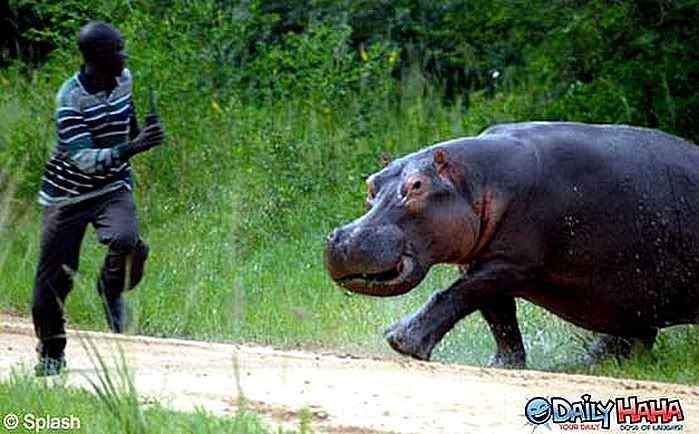 Hippos rarely kill each other, even in territorial challenges. Usually a territorial bull and a challenging bachelor will stop fighting when it is clear that one hippo is stronger. When hippos become overpopulated, or when a habitat starts to shrink, bulls will sometimes attempt to kill infants; sometimes female hippos will kill the bulls to protect their infants, but neither behavior is common under normal conditions.
INTERSPECIES CONFLICT
Elephant vs. Rhino
Clashes between elephants and rhinos are not uncommon. Aggressive young orphaned elephants are reported to have killed 36 rhinos, including rare black ones, in a game park in eastern South Africa. The rhinos were ripped to pieces. According to conservationists, the young elephants have been provoking confrontations with the rhinos since they were introduced to Hluhluwe-Umofolozi Park in KwaZulu-Natal. The elephants were orphaned when their parents were culled in the early 1990s in an effort to control the elephant population in Kruger National Park. As they have matured, they have become more aggressive.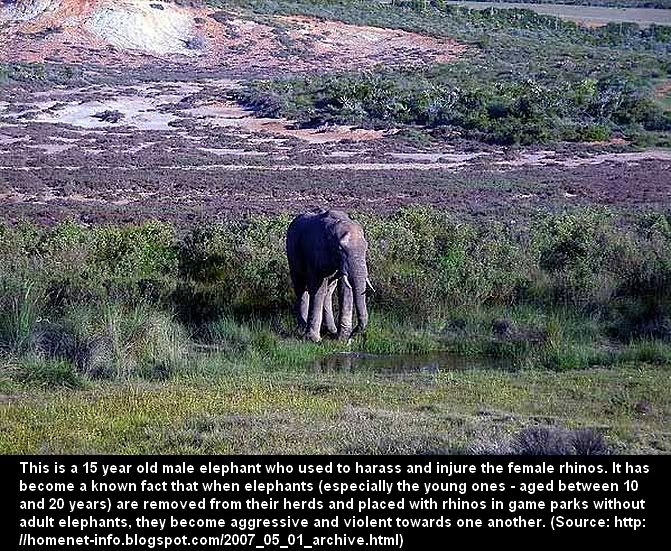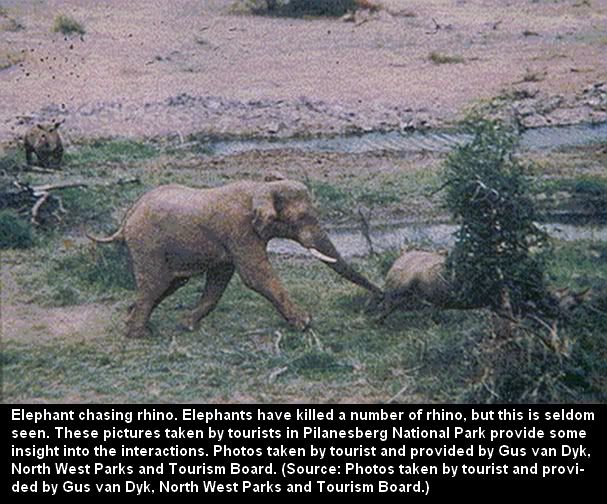 Attacks on rhinos had been increasing, with 13 killed, including two black rhino, in the last five months of 1999, according to South African newspaper reports. A park ranger said he had witnessed an elephant knocking a rhino over, trampling it and driving a tusk through its chest. Conservation veterinarian Dave Cooper said: "There was a spate of killings, and it was as if they were purposeful. The rhinos were ripped to pieces." He said that elephant and rhino routinely clash in nature "but this sort of behaviour, when elephant actively go out and chase rhino, is totally abnormal".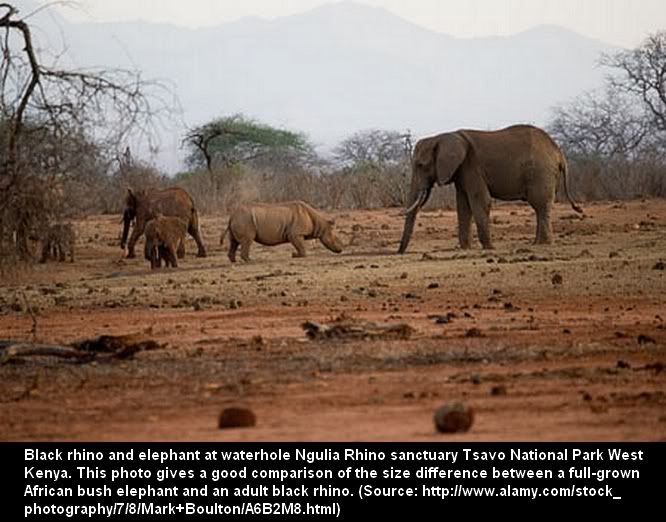 Fellow conservationist Tony Conway said similarly aggressive behaviour had also been seen in Pilanesberg National Park in Northwest Province—another home for the Kruger Park orphaned elephants. However, the killings at Pilanesberg stopped when six adult elephant bulls were introduced to the park. The young ones' behaviour patterns returned to normal under their influence.
Officials at Hluhluwe-Umfolozi Park asked Kruger Park to send them 10 adult bulls in the hope that their presence would have the same effect on the young elephants there. The park's top attractions are its rhino—both the white or square-lipped rhino and the rarer black or hooked-lipped rhino. (You can read the fulll story of this unusual interspecies clash at: http://www.und.ac.za/und/lesci/elephant/clash_of_the_titans.htm)
But do rhinos ever kill elephants? Cases of rhinos killing elephants are much more rare, but they do occur. A white rhino is capable of killing an elephant if it suprises it by a charge, but it's very hard for a rhino to do this when the animals are close. Rhino's are extremley nearsighted and probably wouldn't charge an elephant simply because they wouldn't be able to see it very clearly. Many times when rhinos are attacked by elephants they don't even realize they are being attacked. Another reason there are so many more reports of elepants killing rhinos than vice versa is because elephants are more aggresive than rhinos, especially in "musths", and will attack virtually anything.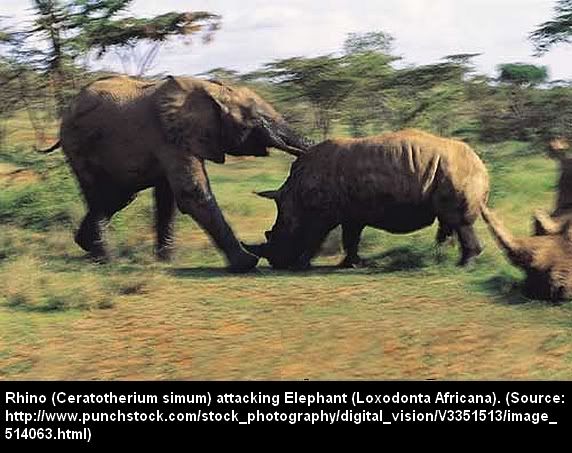 If these known species of large herbivores often act so aggressively toward each other, it seems quite probable that, whatever the Emela-Ntouka is, it could very likely behave in the same way.