THE BEAST OF SEVEN CHUTES: DOGMAN? WEREWOLF? BIGFOOT?
It sounds absurd, but could it be true that an upright snouted creature is walking around the northeast portion of the North American continent on two legs? Included here are a photo and eye-witness descriptions from other encounters that have an eerie similarity to support the idea of an upright snouted creature.
The photo above is of a creature of unknown species standing beside a waterfall in a park called 'Parc des Sept Chutes' in Quebec. Amazingly, the creature appears to be holding something and is staring at the photographer, who doesn't notice it. This creature does not match the descriptions of the legendary Bigfoot. Bigfoot is usually described as being a massive creature that resembles a human. Bigfoot is also usually described as having a conical head and a human looking flat face.
Matches Other Eye-Witness Reports From Wisconsin
This is not the first time such an animal has been described. The creature in this photograph matches descriptions by eye-witnesses who claim to have seen it in southeastern Wisconsin. The creature in the sightings is sometimes referred to as The Beast of Bray Road.
Eyewitness Drawing of the Beast of Bray Road
The reports by various eye-witnesses are surprisingly very similar to each other. Match the photos with the following description:
a dog-like or german shepherd-like appearance

silver, white head with gray, brown or blochy hair

a snout

a triangular shaped head.
The previous sightings also reported that it stood on two legs.
In terestingly they also describe it as having a glaring stare, which the creature in this photo appears to have.
As described in the bullet points above, the creature in the photo has several unique physical attributes that differentiate it from typical bigfoot sightings. The creature is erect, standing on two legs, and appears to be 5-6 feet tall. It has an elongated snout that appears doglike, as well as silver hair on its head reaching to it's shoulders. The creatures body is black, and it's left arm is visible, bent at the elbow and, quite remarkably, the creature is holding a white dog.
Based on the red area that looks like blood on the creatures head, it may have been eating the dog. The creature has a triangular shaped head and, unlike bigfoot creatures who retreat when seen, this creature is holding his ground and staring aggressivley directly at the photographer.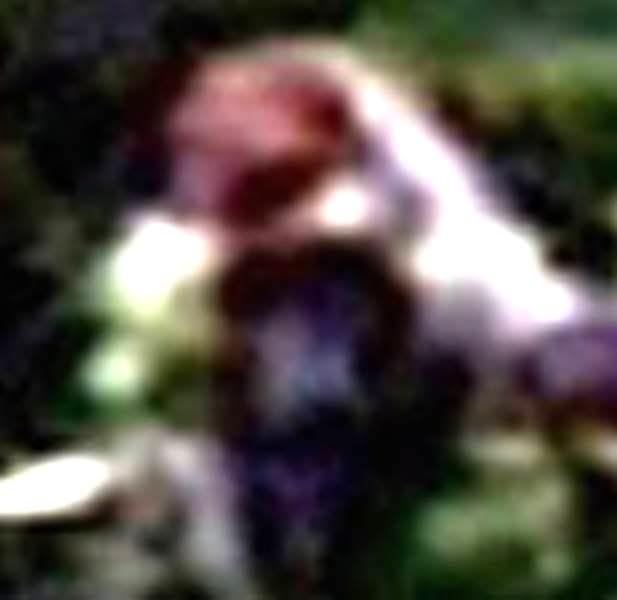 The name "Beast of Seven Chutes" is based on the park where it was taken, Parc des Sept Chutes, which is a regional park about 30 miles northeast of the city of Quebec.
Circumstances surrounding the photograph of The Beast of 7 Chutes
The person who took the photo lives in Quebec, about 15 minutes from where the photo was taken. He speaks French, works as a driver for a construction company, and wishes to remain anonymous.
He was sightseeing alone at a place called Parc des 7 Chutes, which is near Saint-Georges de Beauce, Quebec. It was about 90 degrees that day. He did not notice the subject or anything out of the ordinary while he was walking around the park taking pictures. The date was Wednesday, June 1, 2005, and there were no other park visitors around. He took 76 photos (all at medium resolution) of various park features; he also recorded 4 videos. (The videos are available for anyone who wants to view them.) The camera was a Canon A70. He was looking through the photos at home that same day and was surprised to see the subject/creature standing in the woods looking up at him. The photo was number 32 in the set. He has since been back to this area 3 times and taken photos and videos on each occasion. He was back on Monday, July 4th and was spooked when he heard something walking in the woods 20-30 feet away from him. He stated that he probably will not be going back there alone. In some of the later photos he took he had his girlfriend stand where the subject was, and he stood where he initially was and took photos to get a sense of size and scale. All photos and videos are available for review.
THE BEAST OF 7 CHUTES AND THE BEAST OF BRAY ROAD - "DOG-MEN" OR "APE-MEN"?
The Beast of 7 Chutes and the Beast of Bray Road have both been referred to as "dog-men" and speculated to be some sort of bipedal canids. My opinion is that these are not "dog-men" at all, but rather an undiscovered species of ape—one that resembles a large, bipedal baboon.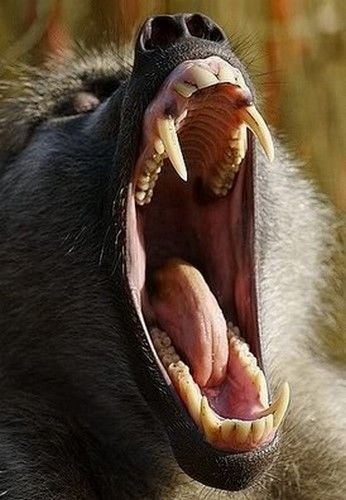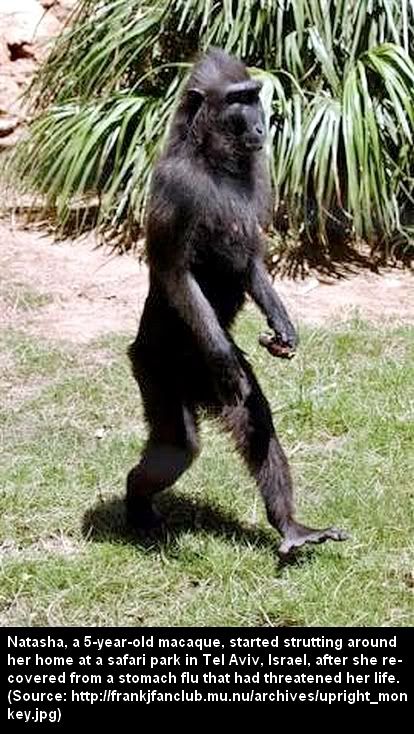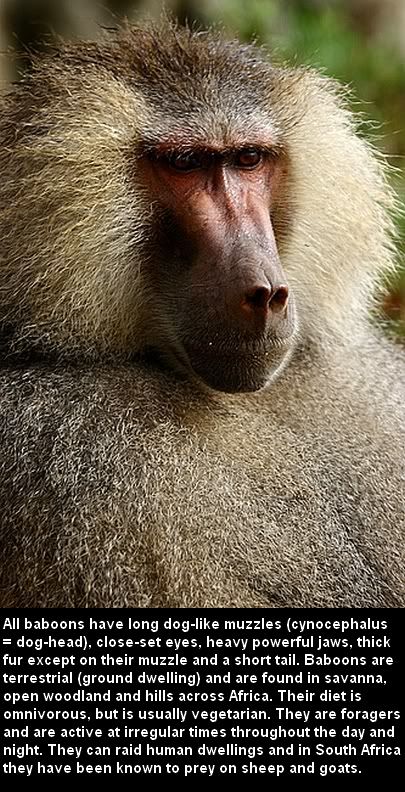 All baboons have long dog-like muzzles (cynocephalus = dog-head), close-set eyes, heavy powerful jaws, thick fur except on their muzzle and a short tail. Some have the ability to walk erect, at least for short periods of time. Males of the Hamadryas Baboon species also have a large white mane.
Baboons are terrestrial (ground dwelling) and are found in savanna, open woodland and hills across Africa. Their diet is omnivorous, but is usually vegetarian. They are foragers and are active at irregular times throughout the day and night. They can raid human dwellings and in South Africa they have been known to prey on sheep and goats, as well as snatching children.
While I am not saying that these cryptids are actually baboons, I am saying that I believe they are apes with characteristics that more closely resemble those of baboons than those of chimpanzees or gorillas—also decidedly different from those of the cryptid known as Bigfoot.
I have here provided a composite photo of how such a bipedal giant baboon-like creature might look. For comparison, I have added two details from the original photo of the Beast of 7 Chutes. Feel free to share your own opinions.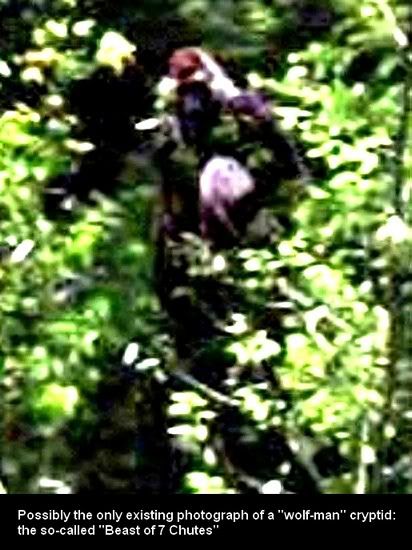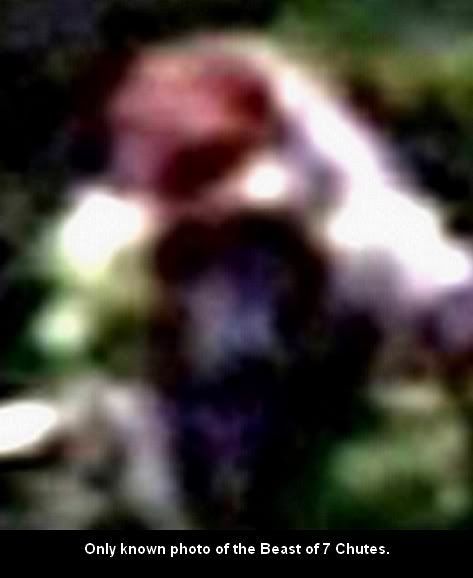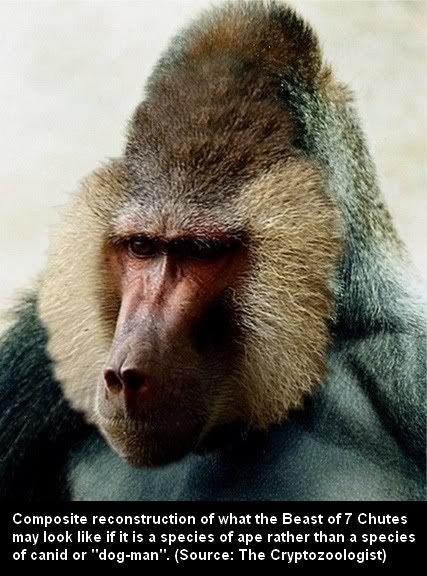 The Cryptozoologist