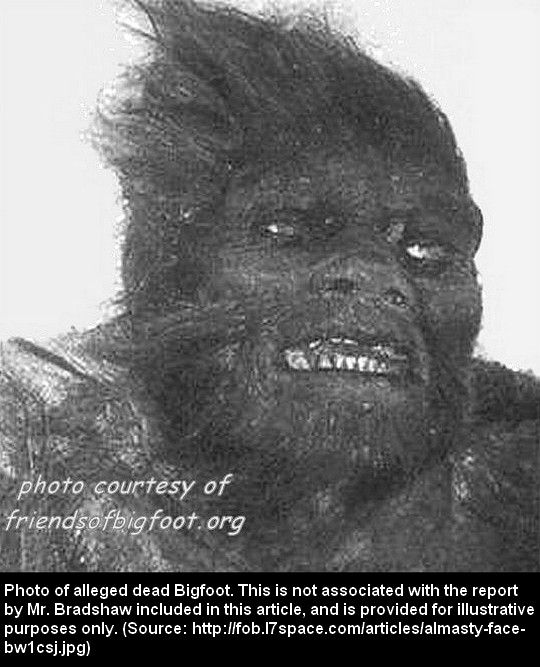 WERE WASHINGTON STATE SASQUATCH KILLED BY ERUPTION OF MT. ST. HELENS? AN EYEWITNESS REPORT!
The following is a report I received in September 1999 from Mr. Fred Bradshaw regarding a sighting by his father of several dead Bigfoot following the eruption of Mt. St. Helens. It is my recollection that this report was submitted to BFRO (the Bigfoot Research Organization) at the time, although subsequently I have not been able to locate it on their site. I am posting it here exactly as it was presented to me.

The Cryptozoologist
Location: COWLITZ county, WA. UNITED STATES
Sighting Type: 1
Latitude:
Longitude:
Day:
Month: MAY
Year: 1980
Time:
Elevation:
Data Source: TR 91 SEPT 1999
Credibility: 3
Locality: MT ST HELENS
Researcher: Fred Bradshaw
Witness: MR Bradshaw
Sighting Type: 1
Summary: DEAD BF FROM MT ST HELENS SEEN
Sighting Text:
TR 91 SEPT 1999 *
Fred Bradshaw report concerning dead Bigfoot bodies near Mt. St. Helens.
My father worked for Weyerhauser Co. at Green Mountain ,WA, east of Vancouver. The site has security on their roads to check on the equipment and check closed areas to keep people out.
My father was working the day Mt. St. Helens blew up. He was at a meeting in Kelso, WA, and as he was a supervisor, when Mt. St. Helens blew it's side out, all heck cut lose.
My father was sent back to Green Mountain right away but like most he wasn't allowed to go very far because of the mud slide coming down the river. He did get to the town of Toutle, WA, on highway 504 off I-5. He and his crew were placed at different spots to watch mud flow and of course help people get out of the blast zone after the major blow up. He was sent to the area of Spirit Lake to keep people out.
When the second major blow up of the mountain came, my father and the other guy with him reported in, and they got out of there.
He was then placed in charge of the helicopter landing zone. It was his job to help keep people out of the landing zone and let aid crews in so they could care for injured.
Later. when all the people were out and bodies out, the National Guard was brought in to clean up. They hauled dead animals out that they placed in piles; deer in one, elk in another and so on. They were covered up with tarps and later burned.
But my father was placed in charge of one pile of dead that were covered and no one was allowed to go near. Armed U.S. National Guard personal were around this pile, and one day when they were going to move this group of bodies, and my father was very close to it and was told to keep his mouth closed. And when the tarps were removed he saw the creatures, some badly burned and some not. They placed them in a net and lifted them into a truck and covered it over. My father asked a guardsmen what will they do with them and he said study them or what ever...he didn't want to know. He said it's like other things you don't ask, and off they went .
AND NO ONE KNOWS WHAT HAPPENED TO THEM.
My father and the rest were debriefed and sent home.