The Mngwa, Terror of the Coastlands: Introduction
by Captain W. Hichens
Late of the Intelligence and Administrative Services, East Africa
The mngwa, according to natives in the fishing villages strung along the East African coast, is a gigantic cat, striped like a tabby, but as large as a donkey and far more ferocious and fearsome than any lion. It can be said that such a beast is "impossible"; but, having trekked many a long mile in its reputed haunts and helped to patch up more than one of its mangled victims, I am convinced that some beast answering to the mngwa's description does lurk in the dense jungle which fringes parts of this coast.
Patches of this dark jungle-growth have not been trodden by human foot for centuries, as may be judged from the fact that a large town of ruined stone mansions has stood in the bush not an afternoon's car-drive north of Mombasa, for over five hundred years, and was utterly unheard of until rediscovered about four years ago. What other secrets does this jungle-belt hold? The natives swear that it is haunted; and so it may be, by strange beasts. In any event, the mngwa, as a beast distinct from the lion and leopard, has been known to the coastal natives for more than six centuries. A 13th-century song of one of their famous hunter-sultans contains the lines:
"I do not dally in the towns, but press into the forest, to be devoured by the mngwa!
And if the mngwa seizes me, devouring my flesh, that is the fortune of the hunt!"
Down the years the beast figures in stories, and any native on the coast to-day can tell horrible tales of the mngwa's ferocity and periodical raids. All that is not to be lightheartedly dismissed as "nonsense." Not long ago a man was brought in to me at Mchinga (a small Tanganyika coastal village), on a litter and terribly mauled by some great beast. He said it was a mngwa, and as he himself was a brave and skilful native hunter, who had often tracked down lions, leopards and other "killers" with me and other white men, why should we suppose that in this case he mistook a lion or a leopard for some other beast? He had nothing to gain by telling me lies; on the contrary, as a hunter he depended for his livelihood on being absolutely truthful and trustworthy.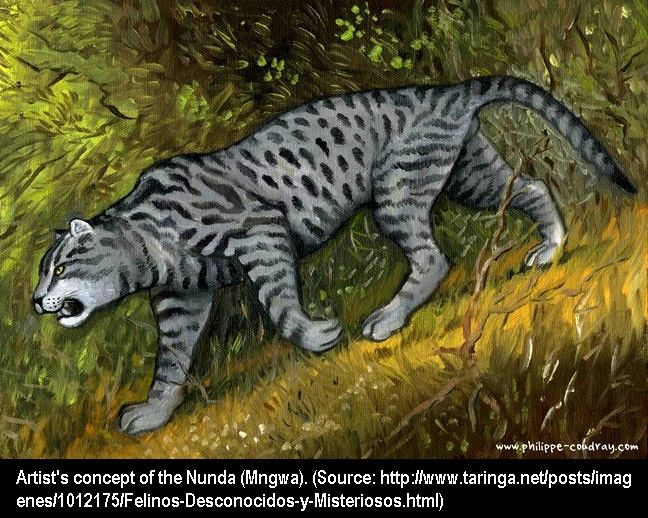 On another occasion, at Lindi, another Tanganyika town, a mngwa took to prowling the village at night, killed several villagers and, finally, a policeman on point at the market. For nights the whole town lived in fear, and although we doubled the police-guards we had difficulty in getting the men to go on duty. But I have seen those same men rout a lion out of a bush-patch with sticks! They swore that this beast was not a lion, nor a leopard, but a mngwa. We made every effort to waylay it, but, unfortunately, were not successful; nor did we get a lion, as we might reasonably have done had it been one.
Mngwa: The Strange One
At night, all cats are grey. - African Proverb
Captain William Hichens, Native Magistrate of Lindi, Tanganyika (now Tanzania), recorded the following events, which had taken place in 1922.
Going to relieve the midnight watch, an oncoming native constable one night found his comrade missing. After a search he discovered him, terribly mutilated, underneath a stall. The man ran to his European officer, who went with me at once to the market. We found it obvious that the askari had been attacked and killed by some animal--a lion, it seemed.
In the victim's hand was clenched a matted mass of greyish hair, such as would come out of a lion's mane were it grasped and torn in a violent fight. But in many years no lion had been known to come into the town.
We were puzzling the problem at the boma next morning when the old Arab Liwali or native governor of the district hurried into our office, with two scared-looking men at his heels. Out late the previous night, they said, they had slunk by the market-place lest the askari should see them and think them evil-doers; and as they crept by they were horrified to see a huge brindled cat, the great mysterious nunda which is feared in every village on the coast, leap from the shadows and bear the policeman to the ground. The Liwali, a venerable and educated man, assured us that within his memory the nunda had visited the village several times. It was an animal, not a lion or a leopard, but a huge cat as large as a donkey and marked like a tabby. I had heard this tale, and put it down as silly superstition, but the Liwali's assertion put a different light on things...
...That same night another constable was torn to pieces, and clutched in his hands and scattered about the buckles of his uniform was more of that grey, matted fur...
Mr. Hichens has thus made what may be the earliest mention in the European press of an animal the Tanzanian natives have known of for hundreds of years: the dreaded Nunda or Mngwa ("strange one"). The animal is reputed to be a gigantic cat, and is supposedly quite fierce.
In Swahili Tales, Edward Steere recounts the tale of Sultan Majnún. The legend recounts how the sultan's cat escapes and begins to kill chickens. The sultan lets the cat go about its business and it soon moves up to killing goats and sheep. Finally the sultan declared that it was no longer a cat--"its name is Nunda". The sultan's son vows to slay the cat. He kills a dog, a civet, a zebra, a giraffe, a rhinoceros, and an elephant before finally tracking down the cat.
"This must be the Nunda," he said. "My mother has told me that its ears are small and these are small; she has told me that the Nunda is broad and not long, and this is broad and not long; she has told me that it has two blotches like a civet, and this has two blotches like a civet; she has told me that its tail is thick and this tail is thick; and all the peculiarities she told me of are here."
Of course this creature is the Nunda, and he kills the animal. The story ends with the son inheriting the kingdom, marrying, and ruling for many years.
But back to Hichens' report: he sent the "grey, matted fur" to headquarters to be identified. It was said to be "a fur and not a hair as you state: probably cat."
In 1937, Hichens wrote again of the attacks, as they had begun again.
Not long ago a man was brought in to me at Mchinga on a litter and terribly mauled by some great beast. He said it was a mngwa ... One well-known hunting-song tells of the Simba [lion], Nsui [leopard], and the Mngwa all in one verse, plainly showing that there is no confusion in the native mind between these three great carnivores.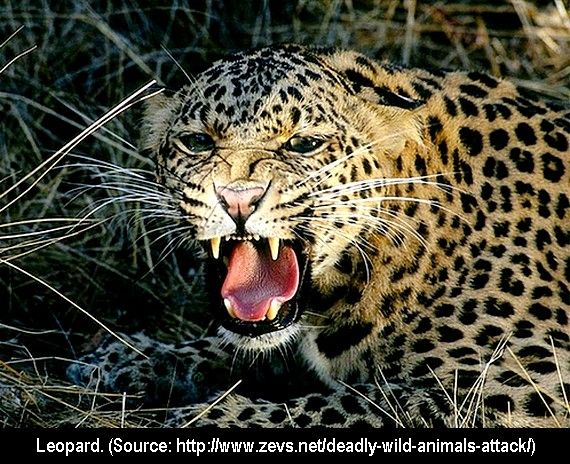 Hunter Patrick Bowen told author Frank Lane that he had once tracked a Mngwa. It had carried off a young boy, and Bowen and another man followed the tracks of the animal. "The spoor we were following appeared to be that of a leopard as large as the largest lion." Bowen recorded that its hairs were brindled and noticeably different from those of a leopard. Bowen also noted that it was possible that some of the depredations atributed to the chemosit or Nandi Bear were the work of the Mngwa.
Bernard Heuvelmans, in his discussion of the animal in On the Track of Unknown Animals, advances the theory that the mngwa may be an abnormally-colored specimen of some known species. And in a 1986 Cryptozoology article, he proposes that it may be a larger subspecies of the golden cat (Profelis aurata).
The Cryptozoologist's Note: Another possibility is that Mngwa is some sort of hybrid cat, such as a tigon, a liger, or a leopon. A tigon is the result of breeding a male tiger with a female lion.
A liger results when a male lion breeds with a female tiger.
A leopon is the offspring of a male leopard and a female lion.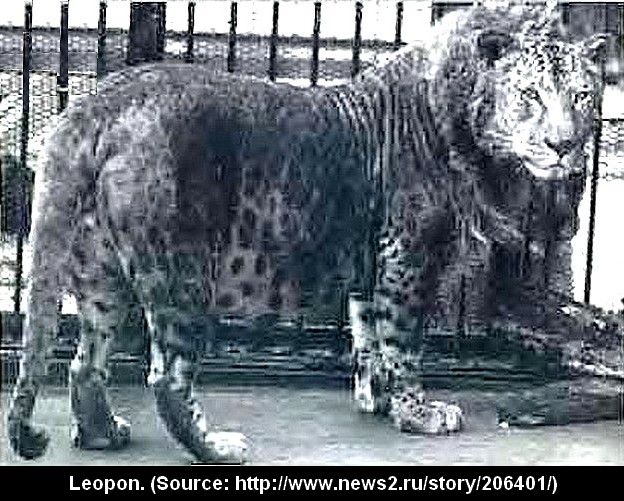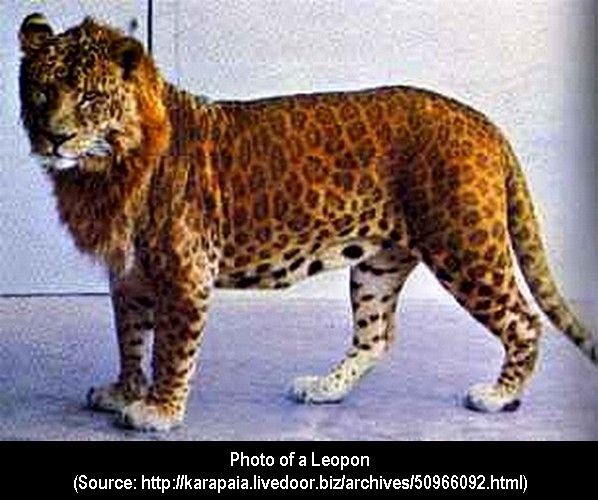 Of the three hybrids, the liger seems to be the most likely candidate, because it is more common than the tigon, and is larger than both the tigon and the leopon. It also more closely fits the descriptions of the Mngwa in several other ways. The liger has both stripes and spots. The stripes are inherited from its tiger parent and the spots from the lion parent. Ligers are usually orangish/golden in color. However, there have been white tigers bred with lions to produce a very light golden coat on the offspring. If the hybrid offspring is a male, it will have a leonine mane, but it will not be as large and defined as a normal lion's mane. The liger gets most of its strength and size from both of its parents; this makes the liger possibly the largest cat in the world! On their hind legs, ligers stand approximately 12 feet tall. At most, ligers may weigh up to 1,000 pounds. Ligers make the sound of both a lion and a tiger, although their roar tends to sound more like a lion's roar.
One obvious problem with the Tigon or Liger theory is the absence of tigers in Africa. However, this may not have always been the case, though there is no evidence to date to support this possibility. On the other hand, both lions and leopards are present in abundance, which would tend to lend support to the possibility of the Mngwa being a leopon. 
One other possibility would be surviving members of the species known as the American Lion or the Cave Lion. However, there seems to be no evidence that this particular lion had a gray or brindled coat, and it may actually have been the ancestor of the present-day African lion. Some paleontologists see the American lion so closely related to the African lion that they have placed the two animals in the same species.
American lion (Panthera atrox) -----> Panthera leo atrox
African lion (Panthera leo) -----------> Panthera leo leo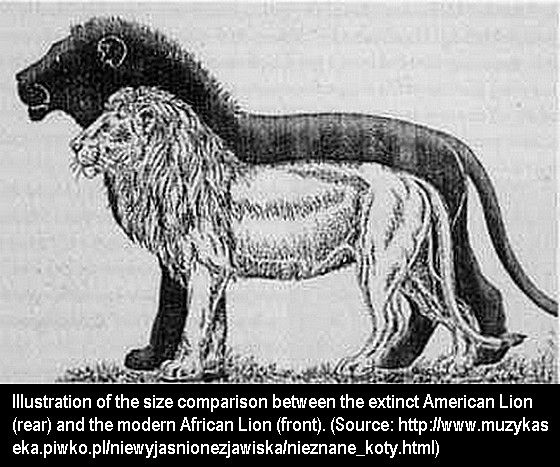 Because of fossils found it is determined that male American lions were nearly 25 percent larger than male African lions. With long slender limbs. They were larger than their heavily-built "cousins" the sabertooth cats (Smilodon), yet smaller than the rangy short-faced bear (Arctodus simus), fellow large carnivores of the period. But in features of the teeth and skeleton, American lions strongly resembled modern ones. Weighing around 350 - 500 pounds with long shaggy fur and a thick mane.
Will the mystery of the mngwa ever be solved? Perhaps not. The odds grow less and less favorable with each passing year. To this writer's knowledge, there have been no new reports of the creature's depredations in the past 80+ years, at least none which have been brought to the attention of the scientific community. It may well be that one of Africa's most terrifying and mysterious cryptids has passed quietly into extinction without ever giving us the chance to identify it.