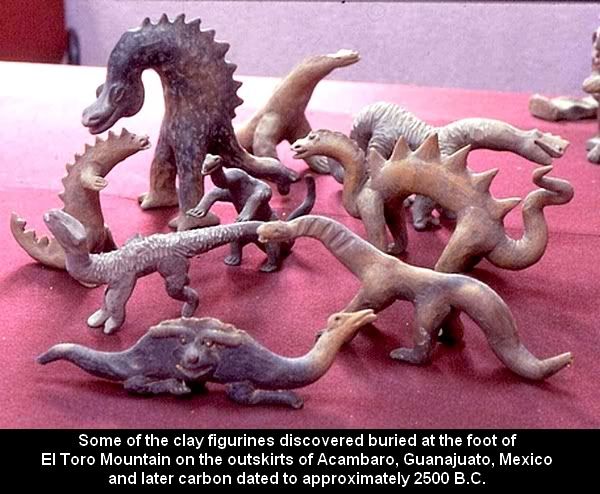 COMPELLING EVIDENCE THAT DINOSAURS AND HUMANS COEXISTED!
Researched, Compiled, Edited and Illustrated
By "The Cryptozoologist" (Randolph [Randy] Merrill)
First posted on September 2, 2007
In 1945 Waldemar Julsrud, a German immigrant and knowledgeable archeologist, discovered clay figurines buried at the foot of El Toro Mountain on the outskirts of Acambaro, Guanajuato, Mexico. Eventually over 33,000 ceramic figurines were found near El Toro as well as Chivo Mountain on the other side of town. Similar artifacts found in the area are identified with the Pre-classical Chupicuaro Culture (800 BC to 200 AD).
The authenticity of the Julsrud find was challenged because the huge collection included dinosaurs. Many archeologists believe dinosaurs have been extinct for the past 65 million years and man's knowledge of them has been limited to the past 200 years. If this is true, man could not possibly have seen and modeled them 2,500 years ago.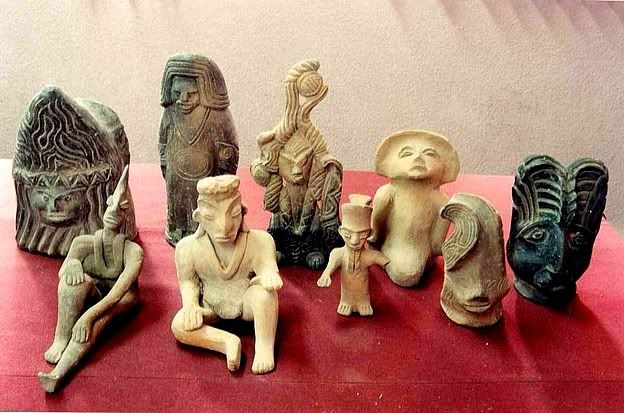 During the years 1945 to 1946, Carlos Perea was Director of Archeology, Acambaro zone, for the National Museum of Anthropology in Mexico City. In a recorded interview he described the Julsrud excavations as unauthorized, as were many similar discoveries made by local farmers, but he had no doubt that the finds were authentic. He acknowledged that he examined the figurines, including dinosaurs, from many different sites. He was present when official excavations were conducted by the National Museum and the American Museum of Natural History. They found many figurines, including dinosaurs, which he described in detail.
In 1954 the Mexican government sent four well known archeologists to investigate. A different but nearby site was selected and a meticulous excavation was begun. Six feet down they found numerous examples of similar figurines and concluded that Julsrud find was authentic. However, three weeks later their report declared the collection to be a fraud because of the fantastic representation of man and dinosaur together.
In 1955 Charles Hapgood, respected Professor of Anthropology at the University of New Hampshire, conducted an elaborate investigation including extensive radiometric dating. He was accompanied by Earl Stanley Gardner, former District Attorney of the city of Los Angeles, California and the creator of the literary character Perry Mason. They refuted the claim that Julsrud manufactured the figurines, by excavating under the house of the Chief of Police, which was built 25 years before Julsrud arrived in Mexico. Forty-three more examples of the same type were found. Three radiocarbon tests were performed by Isotopes Incorporated of New Jersey resulting in dates of 1640 BC, 4530 BC and 1110 BC. Eighteen samples were subjected to thermoluminescent testing by the University of Pennsylvania, all of which gave dates of approximately 2500 BC. These results were subsequently withdrawn when it was learned that some of the samples were from figurines of dinosaurs.
In 1990 an investigation was conducted by Neal Steedy, an independent archeologist who's livelihood depends on contract work from the Mexican government. He arbitrarily selected an excavation site considerably removed from the Julsrud site. Chards were found but no figurines. He commissioned radiocarbon tests for samples from the Julsrud Collection which produced a range of dates from 4000 to 1500 years ago. Then he decided to ignore the results because he claimed the figurines were too soft to last more than 20 years in the ground. He also ignored the fact that many of the acknowledged Chupicuaro pieces are of the same consistency and they survived just fine. Of course, some pieces in the Julsrud collection are beautifully fired. Steedy's effort does more to support the Julsrud collection than to refute it. He effectively demonstrates the determination of the establishment to defend evolutionary dogma in the face of the devastating implications of this truly significant find.
(Note: In the forward to the book, Earth's Shifting Crust, Albert Einstein said Hapgood's concept could be of "great importance to everything that is related to the earth's surface.")
COMPELLING PROOF: SAUROPOD BODY POSTURE
The drawing below is from Bob Bakker's book, Dinosaur Heresies (1986). He begins by telling the story of his realization, "There's something wrong with our dinosaurs." He says, "I had grown up with the "dinosaurian orthodoxy" about dinosaur ways—how they were swamp-bound monsters of sluggish dispositions, plodding with somnolent strides through the sodden terrain..." His contrasting view has drastically altered the way dinosaurs are now depicted.
The same modern ideas are reflected in clay figurines from the Pre-classical Chupicuaro Culture (800 B.C. to 200 A.D.) found near Acambaro, Guanajuato, Mexico.
Ankylosaur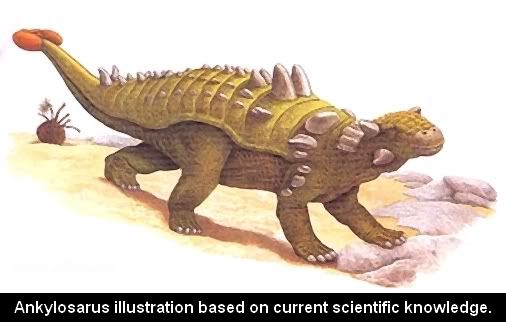 Ankylosaurs exhibited a great deal of variety as do our modern dogs, however, the general type is readily recognizable in this Acambaro figurine.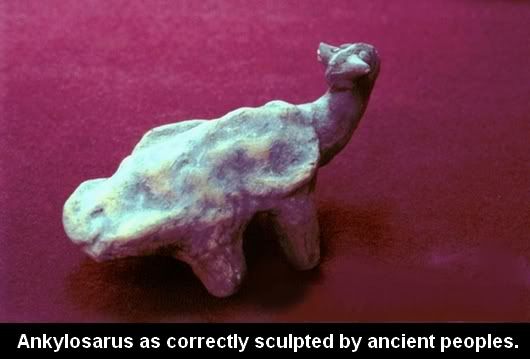 The most obvious explanation for hundreds of life-like depictions of dinosaurs is that they have not been gone that long. These people who lived 2500 years ago saw them.
Iguanodon
When the bones of Iguanodon were discovered in the early 1800's, scientists had a very poor idea of their appearance in life.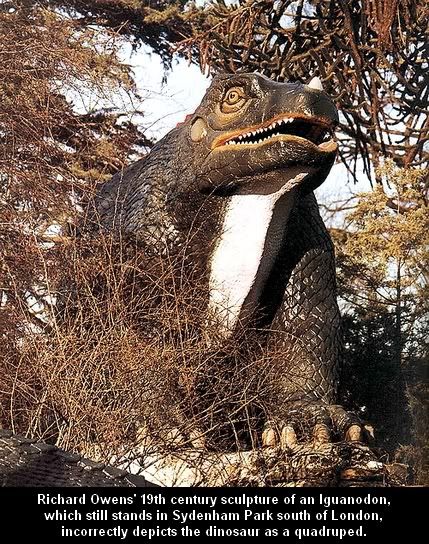 By the late 1800's the conception had improved considerably.
Now we know much more. For example, ossified tendons in the tail indicate that the tail did not droop but stood out straight.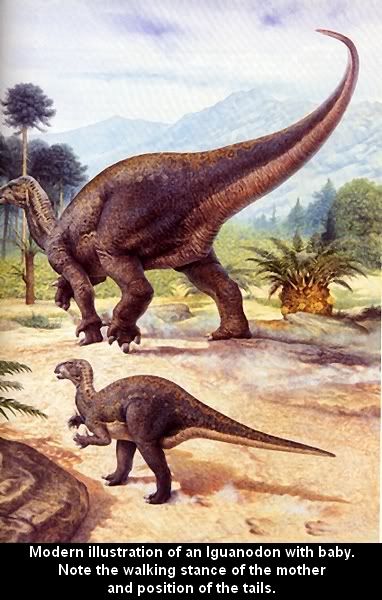 The clay figurine (below) is from the Pre-classical Chupicuaro Culture (800 B.C. to 200 A.D.) found near Acambaro, Guanajuato, Mexico. It seems obvious these people knew how Iguanodons appeared in life.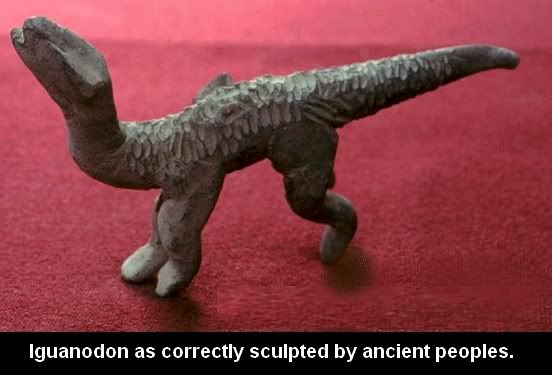 (View the Video Slide Show below to see more of this unique collection)
http://www.youtube.com/watch?v=dDrFnm46Rj0
IF DINOSAURS AND HUMANS CO-EXISTED...WHAT ARE THE IMPLICATIONS?
According to leading evolutionists, evolutionary theory would be obliterated!
Richard Dawkins, Oxford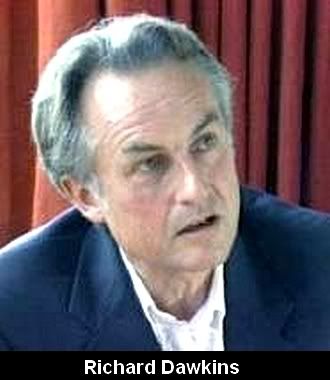 "...alleged human bones in the Carboniferous coal deposits. If authenticated as human, these bones would blow the theory of evolution out of the water." (Free Inquiry, V.21, No.4, 10/11/2001)
"...there are certain things about the fossil record that any evolutionist should expect to be true. We should be very surprised, for example, to find fossil humans appearing in the record before mammals are supposed to have evolved! If a single, well verified mammal skull were to turn up in 500 million year old rocks, our whole modern theory of evolution would be utterly destroyed. Incidentally, this is a sufficient answer to the canard, put about by creationists and their journalistic fellow travelers, that the whole theory of evolution is an 'unfalsifiable' tautology. Ironically, it is also the reason why creationists are so keen on the fake human footprints, which were carved during the depression to fool tourists, in the dinosaur beds of Texas," (The Blind Watchmaker, 1986, p.225)
Steven M. Stanley, Johns Hopkins University
"There is an infinite variety of ways in which, since 1859, the general concept of evolution might have been demolished. Consider the fossil record—a little known resource in Darwin's day. The unequivocal discovery of a fossil population of horses in Precambrian rocks would disprove evolution. More generally, any topsy-turvy sequence of fossils would force us to rethink our theory, yet not a single one has come to light. As Darwin recognized, a single geographic inconsistency would have nearly the same power of destruction." (The New Evolutionary Timetable, 1981, p.171)
NOVA TV Special, God, Darwin And The Dinosaurs
"...dinosaur footprints, side by side with humans. Finding them would counter evidence that humans evolved long after the dinosaurs became extinct and back up...[the] claim that all species, including man, were created at one time."
Ernst Mayr, Harvard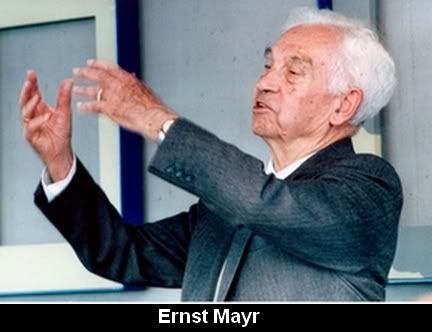 "Creationists have stated that humans and dinosaurs were contemporaries in time...Were this momentous statement true the names of its discoverers would thunder down the corridors of time as individuals who made one of the most outstanding discoveries of the twentieth century." (Gish-Mayr Debate, Evansville, Indiana.)
Niles Eldridge, American Museum of Natural History
"We have been looking at the fossil record as a general test of the notion that life has evolved: to falsify that general idea, we would have to show that forms of life we considered more advanced appear earlier than the simpler forms." (Monkey Business, p.46, 1982)
Louis Jacobs, Southern Methodist University, Former President of the Society of Vertebrate Paleontology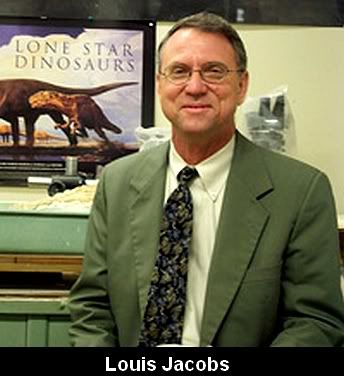 "Co-occurrence of men and dinosaurs. Such an association would dispel (the concept of) an Earth with vast antiquity. The entire history of creation, including the day of rest, could be accommodated in the seven biblical days of the Genesis myth. Evolution would be vanquished." (In Quest of the African Dinosaur, p.261)
So there it is! Compelling (if not irrefutable) evidence that man and dinosaurs DID coexist in the not-so-distant past!