First posted on December 28, 2008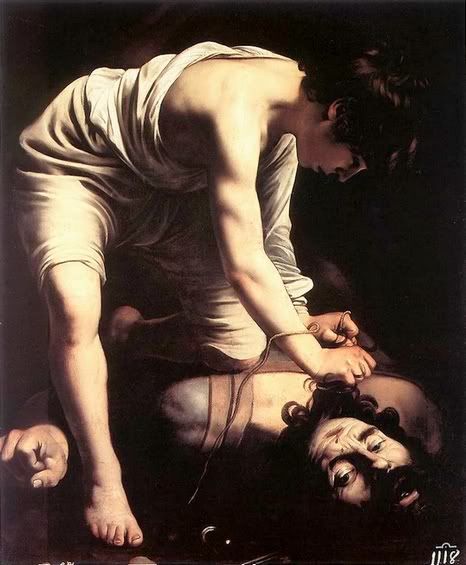 GIANTS WERE AMONG US! THE GREAT PALEOANTHROPOLOGICAL COVERUP PART 2
OHIO VALLEY BONES: REALITY OR IMAGINATION?
Written Reports of Giant Races in the Ohio Valley Area
The History of Marion County, Ohio (1883)
As we see, evidence for the occupation of this region before the appearance of the red man and the white race is to be found in almost every part of the country, as well as through the Northwest generally. In removing the gravel bluffs, which are numerous and deep, for the construction and repairs of roads, and in excavating cellars, hundreds of human skeletons, some of them giant form have been found. A citizen of Marion County estimates that there were about as many human skeletons in the knolls of Marion County as there are white inhabitants at present.
The History of Brown County, Ohio (1883)
Mastodon remains are occasionally unearthed and from time to time, discoveries of the remains of Indian settlements are indicated by the appearance of gigantic skeletons with high cheek bones, powerful jaws and massive frames peculiar to that of the Red man who left these as the only record with which to form a clue to the history of past ages.
Now and Long Ago: A History of the Marion County Area
She said also that three skeletons were found at the mouth of the Paw Paw Creek many years later, while Nim (Nimrod) Satterfield was justice of the peace. Jim Dean and some men were digging for a bridge foundation and found these at the lower end of the old buffalo wallow. She thought it was Dr. Kidwell, of Fairmont, who examined them and said they were very old, perhaps thousands of years old. She said that when the skeletons were exposed to the weather for a few days, their bones turned black and began to crumble, that Squire Satterfield had them buried in the Joliffe graveyard (Rivesville). All these skeletons, she said, were measured and found to be about eight feet long.
Historical Encyclopedia of Illinois and History of Lake County
Edited by Newton Bateman, L.L.D. and Paul Selby, A.M. (1902)
Of the very early history of the region which now embraces Lake County but little can be written. The Mound Builders had occupied it and now passed away, leaving no written language and but little even as tradition. These mounds were quite numerous. Excavations, have revealed the crumbling bones of a mighty race. Samuel Miller, who has resided in the county 1835, is authority for the statement that one skeleton which he assisted in unearthing was a trifle more than eight feet in length, the skull being correspondingly large, while many other skeletons measured at least seven feet.
Historical Collections of Ohio in Two Volumes
Editor: Henry Howe, L.L.D. (1888)
There were mounds situated in the eastern part of the village of Conneaut and an extensive burial ground near the Presbyterian Church, which appear to have had no connection with the burying places of the Indians. Among the human bones found in the mounds were some belonging to men of gigantic structure. Some of the skulls were of sufficient capacity to admit the head of an ordinary man, and jaw bones that might have been fitted on over the face with equal facility. The other bones were proportionately large. The burial ground referred to, contained about four acres, and with the exception of a slight angle in the conformity with the natural contour of the ground, was in the form of an oblong square. It appeared to have been accurately surveyed into lots running from north to south, and exhibited all the order and propriety of arrangement deemed necessary to constitute Christian Burial.
The Firelands Pioneer (1858)
In this connection I would say that Mr. Jonathan Brooks, now living in town, stated to me that his father, Benjamin Brooks, who lived with the Indians fourteen years, and was well acquainted with their language and traditions, told him and others that it was a tradition of the Indians that the first tribe occupying this whole country, was a black-bearded race, very large in size and subsequently a red-bearded race or tribe came and killed or drove off all the black-beards, as they called them.
The Adair County (Kentucky) News: (January 5, 1897)
An old Indian mound has been opened on the farm of Harrison Robinson, four miles east of Jackson, Ohio and two skeletons of extraordinary size and great quantities of trinkets have been removed. some years ago a party of relic hunters, supposed to have been sent out in the interests of the Archeological Society visited the Robinson farm and after a few days search removed a great collection of stone hatchets, beads and bracelets, which were packed and shipped to an Eastern Institute and until this accidental discovery it was supposed that everything had been removed by the relic hunters. It is thought by many that more relics are to be found and preparations are being made for a thorough investigation.
American Indian Myths and Mysteries
Vincent H. Gaddis (1977)
He further told me of the killing of a big Indian at Buckchitawa, about the time of the settlement at Marietta. The Indians had a white prisoner whom they forced to decoy boats to the shore. A small boat was descending the river containing white people, when this prisoner was placed under the bank to tell those in the boat that he had escaped captivity, and to come to the shore and take him in. The Indians were concealed, but the big Indian stuck his head out from behind a large tree, at which point it was pierced by a bullet from the gun of the steersman of the boat. The Indians cried out Wetzel, Wetzel, and fled. This was the last ever seen of the prisoner. The Indians returned next day and buried the big Indian, who, he said, was twenty inches taller than he was, and he was a tall man.
Concealing evidence that conflicts with the accepted theory is common scientific skullduggery. For years the Smithsonian Institution has been accused of hiding in storage vaults things it doesn't like. In 1968 two Neanderthal-like skulls with low foreheads and large brows were found in Minnesota. As for dating, University of Minnesota scientists said they were reluctant to destroy any of the material, although carbon-14 testing only requires the burning of one gram of bone. They were sent to the Smithsonian. Later Dr. Lawrence Angel, curator of physical anthropology at the institution, said he had no record of the skulls there, although he was sure they were not lost. We have a right to wonder whether some professional scientists might not find a really early date for the bones distressing.
Hardesty's History of Monroe County, Ohio
When Chester Bishop was digging a cellar for Asahel Booth, at Clarington, many years ago, he came across a skeleton, the bones of which were removed carefully by Dr. Richard Kirkpatrick, and from his measurements the height of the man when living would have been 8 feet and 5 inches. It is probable that these were the bones of the big Indian of whom the Indian at Jackson's told me.
Ironton Register, Proctorville, (May 5, 1892)
Where Proctorville now stands was one day part of a well paved city, but I think the greater part of it is now in the Ohio River. Only a few mounds, there; one of which was near the C. Wilgus mansion and contained a skeleton of a very large person, all double teeth, and sound, in a jaw bone that would go over the jaw with the flesh on, of a large man; the common burying ground was well-filled with skeletons at a depth of about 6 feet. Part of the pavement was of boulder stone and part of well preserved brick.
Sketches and Stories of the Lake Erie Islands
Theresa Thorndale, Sandusky, Ohio (1898)
A large quantity of human bones was discovered in a fissure in the limestone near the United States Coast Guard lighthouse. A crude tomb of black stone slabs, of a formation not known on the island, was found many years ago beneath the roots of a huge stump. Eight skeletons were found, one measuring over seven feet in height.
Historical Collections of Ohio in Two Volumes, pp. 350-351 Noble County, Ohio
In Seneca township was opened, in 1872, one of the numerous Indian mounds that abound in the neighborhood. This particular one was locally known as the "Bates" mound. Upon being dug into it was found to contain a few broken pieces of earthenware, a lot of flint-heads and one or two stone implements and the remains of three skeletons, whose size would indicate they measured in life at least eight feet in height. The remarkable feature of these remains was they had double teeth in front as well as in back of the mouth and in both upper and lower jaws. Upon exposure to the atmosphere the skeletons crumbled back to Mother Earth.
The Mound Builders: Robert Silverberg
This band of people of great size forced its way into the Ohio Valley about 1000 B.C., it seems. Perhaps there was a small elite of round-headed giants dominating and ruling an existing long-headed...
A History of Ashtabula County, Ohio (1878)
In cultivating the soil in the vicinity, implements have been found, and in excavating the ground for graves it is said that bones have been exhumed which seemed to have belonged to a race of giants. This land at one time belonged to a Mr. Pegleg Sweet, who was a man of large size and full features; and it is narrated at one time he, in digging, came upon a skull and jaw which were of such size that the skull would cover his head and the jaw could be easily slipped over his face, as though the head of a giant were enveloping his...The graves were distinguished by slight depressions in the surface of the earth, disposed in straight rows, which, with intervening spaces or valleys, covered the entire area. The number of these graves has been estimated at being between two and three thousand.
Aaron Wright, Esq., in 1800, made a careful examination of these depressions, and found them invariably to contain human bones blackened with time, which upon exposure to the air soon crumbled to dust. Some of these bones were of unusual size, and evidently belonged to a race allied to giants. Skulls were taken from these mounds, the cavities of which were of sufficient capacity to admit the head of an ordinary man, and jaw-bone that might be fitted over the face with equal facility. The bones of the upper and lower extremities were of corresponding size.
History of Logan County, Illinois (1886)
It is sometimes difficult to distinguish the places of sepulcher raised by the Mound Builders from the more modern graves of the Indians. The graves of the former were in general larger than those of the latter, and were used as receptacles for greater numbers of bodies, and contained relics of art, evincing a higher degree of civilization than that attained by the Indians. The ancient earthworks of the Mound Builders have occasionally been appropriated as burial places by the Indians, but the skeletons of the latter may be distinguished from the osteological remains of the former by their greater stature.
Firelands Pioneer (1858)
There are quite a number of mounds, in the township, where the bones, and sometimes the whole skeleton of the human race have been found. The bones and skeletons found are very large and some of the inhabitants think they must have belonged to a race of beings much larger in size than the Indians found here by the first settlers.
History of Morrow County and Ohio (1880)
In 1829, When the hotel was built in Chesterville, a mound nearby was made to furnish the material for the brick. In digging it away, a large human skeleton was found, but no measurements were made. It is related that the jaw-bone was found to fit easily over that of a citizen of the village, who was remarkable for his large jaw. The local physicians examined the cranium and found it proportionately large, with more teeth than the white race of today. The skeleton was taken to Mansfield, and has been lost sight of entirely.
The History of Medina County, Ohio (1881)
In digging the cellar of the house, nine human skeletons were found and like such specimens from other ancient mounds of the country, they showed that the Mound Builders were men of large stature. The skeletons were not found lying in such a manner as would indicate any arrangement of the bodies on the part of the entombers. In describing the tomb, Mr. Albert Harris said: "It looked as if the bodies had been dumped into a ditch. Some of them were buried deeper than others, the lower one being about seven feet below the surface". When the skeletons were found, Mr. Harris was about twenty years of age, yet he states that he could put one of the skulls over his head, and let it rest upon his shoulders, while wearing a cap at the same time. The large size of all the bones was remarked and the teeth were described as "double all the way around".
Historical Collections of Virginia (1845)
On the Wappatomaka have been found numerous Indian relics, among which was a highly finished pipe, representing a snake coiled around the bowl. There was also discovered the under jaw-bone of a human being (says Kercheval) of great size, which contained eight jaw-teeth in each side of enormous size; and, what is more remarkable the teeth stood transversely in the jaw-bone. It would pass over any man's face with entire ease.
Scientific American (1883)
Two miles from Mandan, on the bluffs near the junction of the Hart and Missouri Rivers, says the local newspaper, the Pioneer, is an old cemetery of fully 100 acres in extent filled with bones of a giant race. This vast city of the dead lies just east of the Fort Lincoln road. The ground has the appearance of having been filled with trenches piled full of dead bodies of both man and beast and covered with several feet of earth. In many places mounds from 8 to 10 feet high, and some of them 100 feet or more in length, have been thrown up and are filled with bones, broken pottery, vases of various bright colored flint, and agates. The pottery, is of a dark material, beautifully decorated, delicate in finish, and as light as wood, showing the work of a people skilled in the arts and possessed of a high state of civilization. This has evidently been a grand battlefield, where thousands of men have fallen. Nothing like a systematic or intelligent exploration has been made, as only little holes two to three feet in depth have been dug in some of the mounds, but many parts of the anatomy of man and beast and beautiful specimens of broken pottery and other curiosities, have been found in these feeble efforts at excavation. Five miles above Mandan, on the opposite side of the Missouri, is another vast cemetery as yet unexplored. We asked an aged Indian what his people knew of these ancient graveyards. He answered: "Me know nothing about them. They were here before the red man."
History of Huron and Erie Counties, Ohio (1879)
Excerpt recorded by W.W. Williams
In the township of Milan there were three clearly-defined [sic] fortifications when the first settlers came into the country, and they are still not entirely leveled by the plowshare. All three were upon the high banks of the Huron ...
F. W. Fowler, one of the pioneers of Milan, describes these earthworks [sic], as first seen by him, to have been from two to four feet above the surface of the ground. Large trees were growing upon some of these embankments. Near these forts were mounds or hillocks, which were found to contain human bones, promiscuously thrown together, as if a large number of bodies had been buried at one time. The skull bones, when found entire, were shown by measurement to be larger, upon the average, than those of the present race, and all exhibited marks that would indicate that life had been taken in deadly combat. Scattered among the skulls and vertebrae, and arm and leg bones, were stone pipes and fragments of burnt clay.
In Muskingum County's Brush Creek Township, in a document dated March 3, 1880, a mound located on the farm of J.M. Baughman was measured 64 feet in width, 90 feet in length, and 11 feet, 3 inches in height. It was flat on top, an unusual condition for a mound. The mound achieved its odd shape possibly because of the stone altar, owning similar dimensions, found within. The structure was located on the summit of a hill, 152 feet above the Brush Creek. In it were discovered the bones of men and women, buried in couples—the length of their skeletons exceeding eight and even nine feet. The excavation was started in early December, 1870. There was another "dig" included as well. This reflected an attitude toward the then-existing archaeologists, whom these people apparently held in low regard.
BONES of CONTENTION: RECORDED HISTORICAL DISCOVERIES OF HUMAN ANOMALIES
200-600 B.C. (Location unknown): Almost beyond comprehension or believability was the find of the two separate 36-foot human remains uncovered by Carthaginians.
1577 A.D. Canton of Lucerne: A 19'6" human skeleton was found under an overturned oak tree.
1456 Valence, France: A 23-foot tall human skeleton was found in beside a river.
1613 Chaumont, France: A 25' 6 " human skeleton found in near the castle here. This was claimed to be a nearly complete find.
1792 New York, Buffalo: Turner's History of the Holland Purchase reports that 7 and 8 foot skeletons were found at an earthen fort in Orleans county with broad flat topped skulls.
1800 Ohio, Conneaut: Among the normal size skeletons found in the remains of mounds were found gigantic bones. Some of the skulls and jaws were large enough to fit over the head and face of a normal man.
1821 Tennessee, White County: An ancient fortification contained skeletons of gigantic stature averaging at least 7 feet in length.
1825 Ohio Valley: David Cusick, a Tuscorora by birth, wrote that among the legends of the ancient people of the stock, there was a powerful tribe called Ronnongwetowanca. They were giants, and had a "considerable habitation." When the Great Spirit made the people, some of them became giants. After a time, and having endured the outrages of these giants, it is said that the people banded together, and through the final force of about 800 warriors, successfully annihilated the abhorrent Ronnongwetowanca. After that, it was said that there were no giants anywhere. This was supposed to have happened around 2,500 winters before Columbus discovered America, around 1000 BC.
1829 Ohio, Chesterville: In digging away a mound where a hotel was to be built, a large human skeleton was found, but no measurements were made. It is related that the jawbone was found to fit easily over that of a citizen of the village. The local physicians examined the cranium and found it proportionately large, with more teeth than the white race of today. The skeleton was taken to Mansfield, and has been lost sight of entirely.
1833 California, Lompock Rancho: Soldiers digging at Giant Lompock Rancho, California, discovered a male skeleton 12 feet tall. Carved shells, stone axes, and other artifacts surrounded the skeleton. The skeleton had double rows of upper and lower teeth. Unfortunately, this body was secretly buried when local Indians became upset about the remains.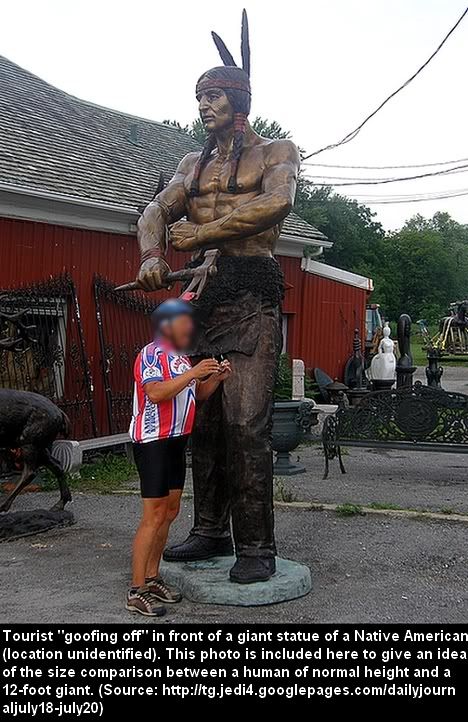 1835 Illinois, Lake County: In the numerous mounds in the county, skeletons ranging between 7 and 8 feet are discovered.
1845 Virginia: A human jaw bone of great size was uncovered in a burial mound on which the teeth stood transversely in the jawbone.
1849 New York: From "Illustrations of the Ancient Monuments of Western New York" comes the report that an elliptical mound above near the Conewango Valley held eight big skeletons. A thigh bone was found to be 28" long. Exquisite stone points, enamelwork, and jewelry were found. Also discovered in the area were a number of other large skeletons one almost 9 feet in height.
1850 New York: From the History of Allegany County in 1879 a report that very large human bones were uncovered during excavation for the railroad
1851 New York: A skull, rib bone, and shinbone were found that indicated the height to be over 8 feet tall.
1856 West Virginia, Wheeling: A human skeleton was discovered by laborers while ploughing a vineyard measuring almost 11 feet tall.
1858 Ohio, Vermillion Township: Skeletons of a race of beings much larger than the local inhabitants were discovered.
1870 Ohio: In Brush Creek Township a large mound contained skeletal remains of several humans up to nine feet tall. A large stone tablet with unknown inscriptions similar to Greek writing was also found.
1872 Ohio, Seneca Township: When the "Bates" mound was opened the remains of three skeletons, whose size would indicate they measured in life, at least, eight feet in height, were found. A remarkable feature of these remains was they had double teeth in front as well as in back of mouth and in both upper and lower jaws.
1873 Ohio, Seville: An Ohio Bicentennial Commission historical marker serves as a reminder that the Giants of Seville, Captain Martin Van Buren Bates and his wife, Anna Swan Bates, lived in the village of Seville in Medina County. Anna stood 7 feet 11 1/2 inches tall and weighed 413 pounds. Martin was 7 feet 9 inches tall and weighed 480 pounds.
1873 Washington DC: "The objects here collected which have not been given, or acquired by exchange, have been purchased for the use of the museum by order of the surgeon general... There is a skeleton of a giant, who, in life, measured seven feet, prepared by Auzoux and mounted by Blanchêne's method, which, if I may use that term, is really a beauty. It is as white and clean as new fallen snow, and the brass joints and screws which keep it together are bright, and of the latest style and finish." From the article "The Army Medical Museum in Washington" by Louis Bagger, Appletons' Journal: A Magazine Of General Literature, Volume 9, Issue 206
1875 West Virginia, Rivesville: Workmen constructing a bridge near the mouth of Paw Paw Creek uncovered three giant skeletons with strands of reddish hair clinging to the skulls. The skeletons had supported people approximately 8 feet tall.
1876 Wisconsin: Mounds were excavated containing a giant skull and vertebrae.
1877 Missouri, Kansas City: A giant skull was unearthed when mounds were opened and giant man tracks belonging to humans 25 to 30 feet tall were discovered.
1877 Nevada, Eureka: Prospectors found a human leg bone and kneecap sticking out of solid rock. Doctors examined the remains and determined they were from a human being, and one that stood over 12 feet tall. The rock in which the bones were found was dated by evolutionists geologically to the Jurassic Period, over 185 million years old.
1878 Ohio, Ashtabula County: While excavating the ground for graves, bones were exhumed, which seemed to have belonged to a race of giants. A skull and jaw were found, which were of such size that the skull would fit easily over a large man's head like a loose fitting helmet, even with the jaw in place. The number of these graves has been estimated to be between two and three thousand.
1879 Indiana, Brewersville: A skeleton almost ten feet tall was excavated from a mound.
1880 Ohio, Zanesville: A skeleton was reported to have been of enormous dimensions found in a clay coffin, with a sandstone slab containing hieroglyphics.
1880 Minnesota, Clearwater: Several giant skeletons were found with double rows of teeth.
1881 Ohio, Medina County: A jawbone of great size belonging to a human being was discovered, which contained eight jaw-teeth in each side, of enormous size; and the teeth stood transversely in the jawbone. It would pass over any man's face with entire ease.
1882 West Virginia, Brewersville: The remains of a giant human in a sitting position with artifacts of stone and flint were discovered near White Day Creek.
1883 Minnesota, Warren: Ten skeletons of both sexes and of gigantic size were taken from a mound.
1883 North Dakota, Mandan: A cemetery of over 100 acres filled with bones of a giant race was discovered.
1883 Ohio, Marion County: During general construction projects in the area giant human skeletons were unearthed.
1883 Ohio, Brown County: In ancient settlement sites remains of giant humans among the former residents of normal stature.
1884 West Virginia, Kanawha County: A skeleton 7 feet 6 inches long was found in a massive stone structure that was likened to a temple chamber within a mound.
1885 Pennsylvania, Gasterville: A large mound contained a vault in which was found a skeleton measuring 7 feet 2 inches. Inscriptions were carved on the vault.
1886 Pennsylvania, Ellisburg: An 8 foot skeleton was discovered.
1886 New York: Dozens of human skeletons were discovered with oddly shaped skulls averaging 7 feet in height
1886 Illinois: A number of large skeletons were found in Logan County and artifacts showing a degree of advancement much higher that the native population had attained.
1887 Wisconsin, Le Crescent: Bones of giant humans were discovered in burial mounds.
1888 Ohio, Toledo: 20 skeletons were discovered with jaws and teeth twice as large as those of normal humans
1888 Minnesota, St. Paul: The remains of seven skeletons 7 to 8 feet tall were discovered.
1890 Tennessee, Roane County: A giant skeleton was discovered measuring over 7 feet tall.
1891 Illinois, Dunleith: Members of the Bureau of Ethnology of the Smithsonian Institution discovered a large skeleton between 7 and 8 feet tall.
1891 Arizona, Crittenden: A giant was unearthed and a huge stone coffin that had evidently once held the body of a man 12 feet tall. A carving on the granite case indicated that he had six toes.
1892 Ohio Proctorville: From the Ironton Register, "Where Proctorville now stands was one day part of a well paved city, but I think the greater part of it is now in the Ohio river [sic]. Only a few mounds, there; one of which was near the C. Wilgus mansion and contained a skeleton of a very large person, all double teeth, and sound, in a jaw bone that would go over the jaw with the flesh on."
1894 Illinois, Pike County: In a conical shaped mound a skeleton over 7 feet tall was found.
1895 Ohio, Toledo: A mound held 20 skeletons, seated and facing east "twice as large as those of present day people."
1896 Minnesota, Lake Koronis: The skeleton of a huge man was uncovered. At Moose Island and Pine City, bones of other giants were found.
1897 Ohio, Jackson: A mound on a farm contained a giant skeleton.
1898 Ohio, Lake Erie Islands: Eight skeletons were found near the United States Coast Guard lighthouse, one measuring over seven feet in height.
1911 California, Lovelock Cave: An 8-foot tall, red-haired mummy discovered. This mummy eventually went to a fraternal lodge where it was used for "initiation purposes.
1918 Alton, Illinois: Robert Pershing Wadlow was born, educated and buried in Alton, Illinois. His height of 8' 11.1" qualifies him as the tallest person in history, as recorded in the Guinness Book of Records. At the time of his death he weighed 490 pounds. Robert was born on February 22, 1918, and weighed a normal eight pounds, six ounces. He drew attention to himself when at six months old, he weighed 30 pounds. A year later at 18 months, he weighed 62 pounds. He continued to grow at an astounding rate, reaching six feet, two inches and 195 pounds by the time he was eight years old.
1923 Arizona, Grand Canyon: The bodies of two petrified human beings 15 and 18 feet in height were discovered.
1931 Nevada, Lovelock: Large skeletons were found in the Humboldt lakebed. One measured 8 1/2 feet tall and appeared to have been wrapped in a gum-covered fabric similar to Egyptian mummies. Another skeleton was almost 10 feet long.
1932 New Mexico, White Sands: Supervisor of the Lincoln National Park, Ellis Wright, found human tracks in the gypsum rock 22 inches long and from 8 to 10 inches wide. The prints were human in origin due to the outline of the perfect prints coupled with a readily apparent instep.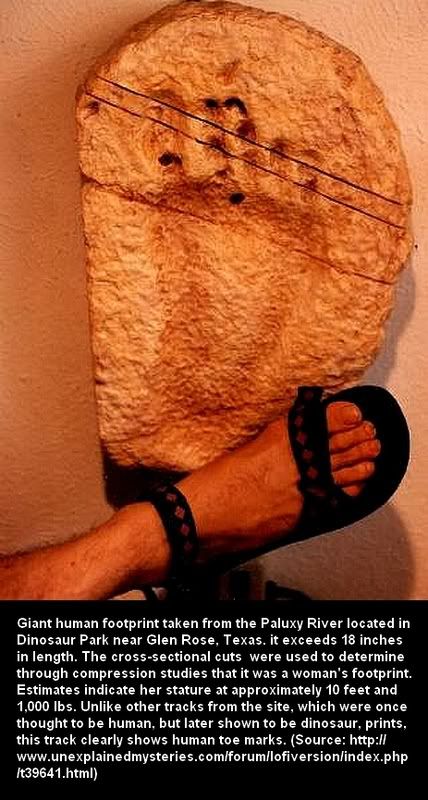 1939 Nevada, Lovelock: A 7-foot 7-inch skeleton was found.
1947 California, Death Valley: The skeletons of nine foot tall humans were found.
1965 Kentucky, Holly Creek: Kenneth White dug a "perfectly preserved skeleton" from under a large rock ledge along Holly Creek which measured 8 feet, 9 inches in length when reassembled. He states, "the arms were extremely long and the hands were large. The skull was "30 inches in circumference. The eye and nose sockets were slits rather than cavities, and the area where the jawbone hinges to the skull was solid bone.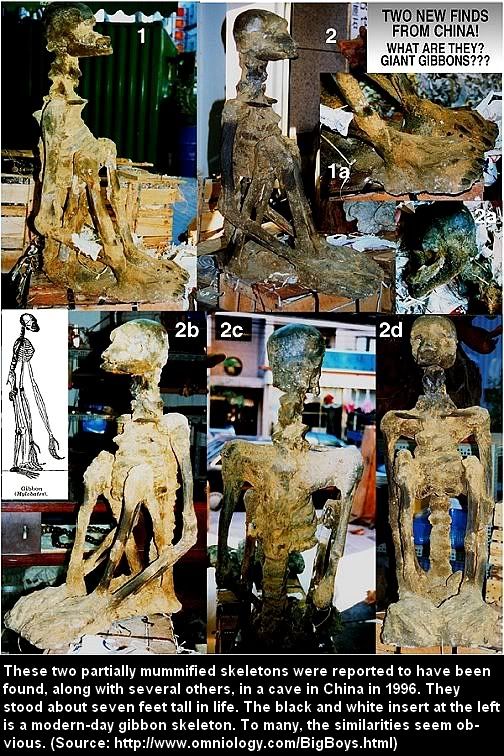 Buffalo Bill Cody spoke of Sioux Indians who told about giants that ran down the buffalo.
Some time in the late 19th century, giants with double rows of teeth, red hair, and skulls 3 to 6 times the size of normal humans were discovered on Catalina Island in California.
The Algonquin have stories of giant, bearded men who first occupied their native lands.
The Cherokee speak of giants who were twice as tall as the Cherokee and also about a great hunter of giant stature named Tsul kalu.
ACCOUNTS AND ARTICLES
by Mike Frizzell of the Enigma Project
In 1981, several members of the Enigma Project took an interest in the ancient Grave Creek burial mound (Moundsville, West Virginia). Our curiosity was aroused by the book, Weird America (Jim Brandon, 1978), which mentioned that 19th century mound excavations yielded some interesting artifacts. Among them was a silver-dollar sized stone tablet scribed with indecipherable glyphs and a skeleton with very "unusual" dentition. In the course of our research, we discovered that a modern museum had been built .. adjacent to the mound. Reasoning that the museum would be a showcase for the mound, its builders, and recovered artifacts, we journeyed to Moundsville, West Virginia to see the Grave Creek Mound and museum firsthand. We found the mound to be an awesome structure, but to our amazement the museum was largely empty. Part of the building did have dioramas, drawings, and a few burial artifacts of the Adena people (one ancient eastern culture credited as mound builders). However, more of the museum had been devoted to the display of an enormous ball-point pen collection than anything related to the burial mound! Later that year, two Enigma investigators traveled to Morgantown, West Virginia to visit the State archeologist, as we had heard that he was very knowledgeable about the Grave Creek Mound and its artifacts. What the investigators discovered was that the archeologist had multiple crates of mound artifacts from Grave Creek and other West Virginia mounds that were being "mothballed" in a storage room adjacent to his office. When questioned about the artifacts, and asked why they weren't on display, he said that they needed to be cleaned and properly cataloged before being displayed. Curiously, many of these artifacts had been excavated decades earlier.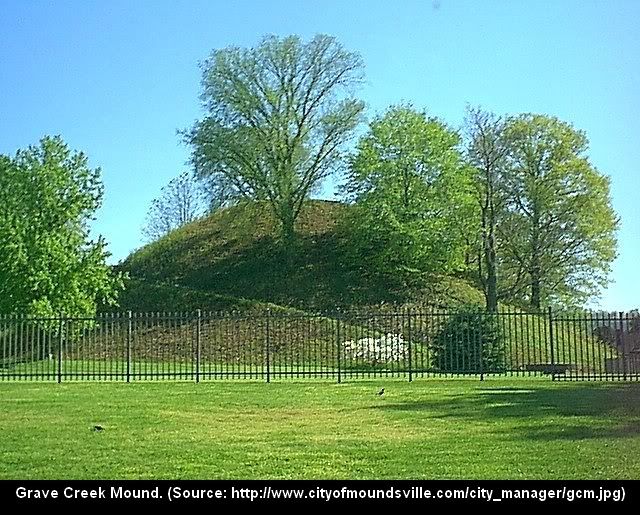 In 2001, we again returned to the Mound and museum and were delighted to discover that the museum was practically filled with Adena culture and burial mound artifacts and exhibits. Mention was made of skeletons found in the Grave Creek structure. However, if there was anything unusual regarding the bones, it was not found in the museum. To our delight, they did have a small exhibit dedicated to the Grave Creek tablet. Though the original has long since been lost, when it was first found someone had the presence of mind to make rubbings and copies of it. A number of attempts have been made to translate the strange glyphs. Unfortunately, no consensus has been reached on what it says, as a number of different translations have surfaced.
I am not aware of any "giant" skeleton remains on display anywhere in the US (I've always suspected that too many finds of this nature would rock the archeological boat by contradicting some feature of mainstream scientific dogma). Who knows what happens to items that threaten the scientific status quo??
GIANT AMERINDIANS
by Chad Arment of the North American Biofortean Review
Most archaeologists who specialize in North American studies give little credence to reports of an extinct race of giant Amerindians. It is true that most reports of giant skeletons have been shown to be hoaxes or have lead to dead-ends when an investigator attempts to track down the bones. Circumstantial evidence abounds in the form of snippets of reports in various semi-Fortean publications. These can lead to the false impression that there is ample evidence available to determine if such a people existed. The question of giant prehistoric Amerindians has intrigued some scientists, however. Iscan and Kessel (1997) reported on an osteologic analysis of prehistoric southeastern U.S. Indians. Their study was based on the skeletal material of over 100 subjects, reporting a maximum average height of 169.8 cm for males, 164.0 cm for females. These figures could be considered "tall", but not extraordinarily so. The authors suggest a few reasons why so many of the early explorers claimed to see "giants" among the tribes they met.
Most Fortean stories about giant skeletons unearthed in North America lack any real details. Most are being passed along secondhand (or third-, or fourth-,...). There is, however, one intriguing tale from a Kentucky folklore book written by Michael Paul Henson (1984). Henson relates how he actually examined a body dug out from under a large rock ledge along Holly Creek in east-central Kentucky. In 1965, a landowner, Kenneth White, was building cattle stalls under the ledge when he found a "perfectly preserved skeleton" which measured 8 feet, 9 inches in length when reassembled. He states "the arms were extremely long and the hands were large. By comparison, the feet were very small." The skull was "30 inches in circumference. The eye and nose sockets were slits rather than cavities, and the area where the jaw bone hinges to the skull was solid bone. It would seem that the person could not have opened his mouth." A powdery white substance covered the skeleton, but no tools, weapons, or other human implements were found with the bones. The body was buried approximately five feet underground. Henson and the farmer assumed the skeleton to be a large, deformed Indian.
Unfortunately, White reburied the bones rather than taking them to a university for examination. Henson died in 1995, and any further notes he may have had on this fascinating story are unavailable (Henson 1996). I would suggest that further investigation of this tale could produce interesting results. We do not have an exact locality for this report, but Holly Creek appears to be run through both Wolfe and Breathitt Counties in Kentucky.
Certainly, the evidence for a true race of giant Amerindians is lacking, but there are certainly other possible explanations for a large bipedal human-like skeleton being found in North America.
Henson, M.P. 1984. Tragedy at Devil's Hollow and other Haunting Tales from Kentucky. Bowling Green, KY: Cockerel Corp.
Henson, M.P. 1996. More Kentucky Ghost Stories. Johnson City, TN: The Overmoutain Press.
Iscan, M.Y., and M.H. Kessel. 1997. Giant Amerindians: Fact or Fantasy? Southeastern Archaeology 16(1): 73-78.
(Source: North American BioFortean Review 1, www.herper.com/NABR.html)
HOAXES AND FAKES
With regard to hoaxes and fakes, Larry Hagedon reminds us of why it is always important to take any such stories with a grain of salt. As an example, he offers the story of The Kossuth Giants:
I. O. W. A. THE NEWSLETTER OF THE STATE HISTORICAL SOCIETY OF IOWA
VOLUME 17, NUMBER 2
SPRING 2003
MUMMIFIED GIANTS "FOUND" IN KOSSUTH COUNTY
Iowa has a long tradition of historical hoaxes. One of the most infamous was the Cardiff Giant. "Discovered" by a New York farmer in 1869, the giant was actually a hoax carved from a block of Iowa gypsum and buried on the New York farm.
Iowa now has a new giant tale. Last fall, State Historical Society archeologist Dan Higginbottom opened an e-mail asking what he knew about the recently discovered Kossuth Giants.
Dan, who has dealt with archeology in Iowa and the Midwest for 20 years, knew nothing of mummified giant remains being found in Kossuth County.
It turns out that two separate web sites (www.stevequayle.com/Giants/index2.html, which copies from what was clearly intended as a parody at YAWP.com) carry a story that seems like something from the X-Files but with just enough balderdash to remind one of P. T. Barnum.
Reflecting a subtle sense of humor and knowledge of Iowa history, the story goes like this:
A Kossuth Center farmer who sports the name of 1950s rockabilly/country western singer Marvin Rainwater found the giants.
Marvin knew that he needed the help of archeologists from Georg Von Podebrad College located in Zoar. The archeologists uncovered robes made from the same long red hair found on the mummified giants reportedly being stored at the Kossuth County Chapter of the State Historical Society.
The truth is that both Kossuth Center and Zoar are abandoned towns, and no college bears the name of Georg Von Podebrad, a fifteenth-century Bohemian king. Nor is there a Kossuth County Chapter of the State Historical Society.
That didn't stop an Ohio student from calling the State Historical Society to find out more about some robes in museum storage made of long red hair!
The internet opens up a new world of possibility for instigators of hoaxes. Staff at the State Historical Society stand willing to help web browsers separate fact from fiction.