THE BEAST OF LBL
A Cache by GEO.JOE
(Source: http://www.geocaching.com/seek/cache_details.aspx?guid=9cad4949-3f04-4234-a477-d9a646eae931&log=y&decrypt=)
[Cryptozoologist's Note: Geocaching (pronounced geo-cashing) is a worldwide game of hiding and seeking treasure. A geocacher can place a geocache in the world, pinpoint its location using GPS technology and then share the geocache's existence and location online. Anyone with a GPS device can then try to locate the geocache.]
What is the The Beast of the Land Between the Lakes - Legend, Myth, Werewolf, Ghost Story, Supernatural Entity, Cursed Spirit, or a Blood Thirsty Creature That Kills More Than It Can Eat?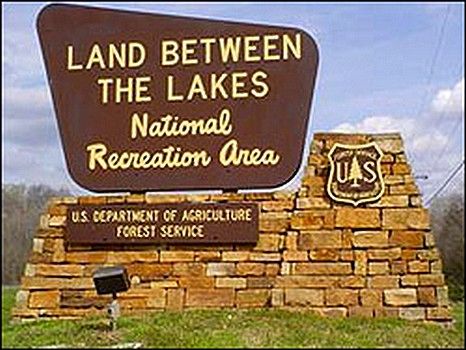 Stories and sightingS of the Beast of LBL go back for over 100 years. Some say the Beast is an exiled Indian Shaman that used his shape shifting abilities to do evil and was killed by tribal braves - before he died he vowed to torment the tribe and anyone on this land. Others say the legends of the beast were conjured up by moon shiners to scare people and keep them out of the wood so there stills would not be found. More recent explanations say the beast is a predator cousin of Bigfoot that kills for sport and always kills more than it can consume.
So what is the Beast of LBL? Descriptions of the beast state that it is a werewolf-type creature, with a wolf-shaped head, and a muscular human-like body, it walks on two legs, stands 7 feet tall, it is covered in thick dark hair, with large fangs and ominous claws. Many stories tell of it's wolf-like wail and guttural growls.
Experiences with the beast range from hearing howls in the distance to fleeting glimpses in the shadows to victims being stalked or chased and even tales of murder.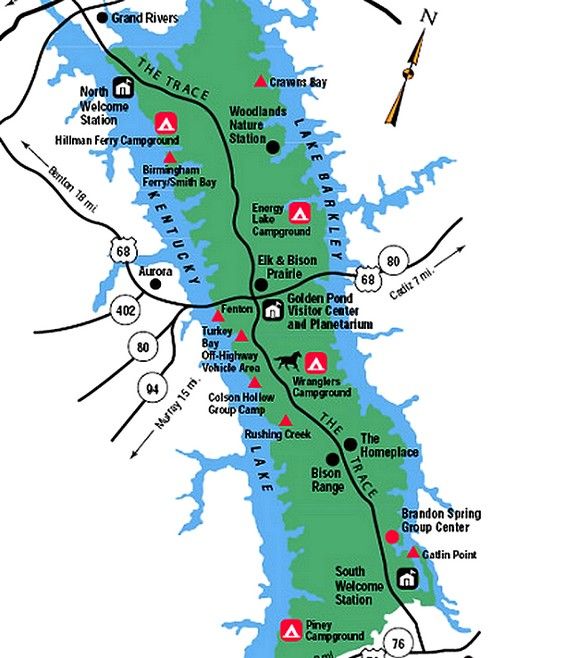 The cache is placed near the alleged site of the most horrific account of the Beast. In the early 1980's, just down this old road bed at the waters edge, officials were called to a camp site where a family of four were found viciously killed, dismembered and partially eaten. Bites and claw marks let the officials know that they were dealing with a very dangerous animal. However, there were no animals native to this part of the country that could have caused the type of wounds found on the victims, so theory turned to the legend of the Beast. It is not known what the outcome of the investigation was, because this story was never released publicly. But there are those that believe that the government took over and bunkers were built so the military could hunt and kill the Beast.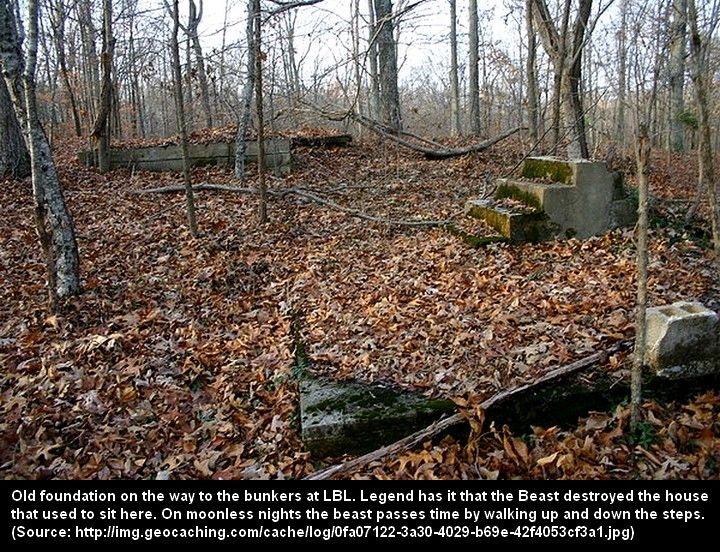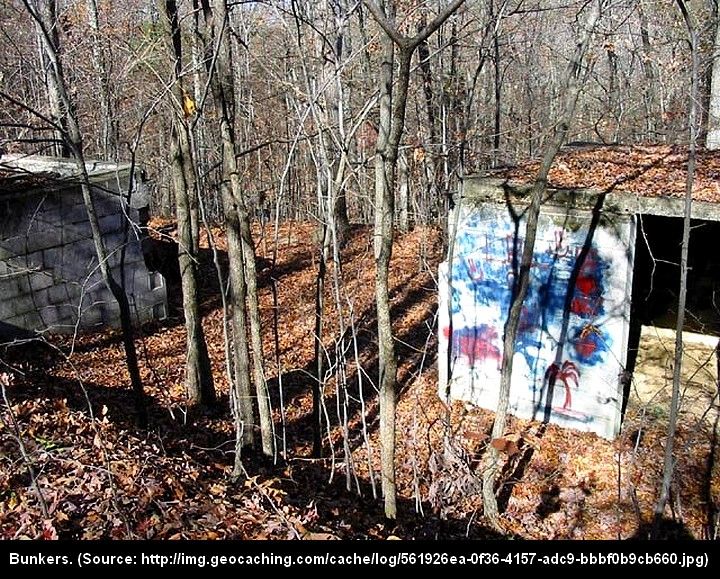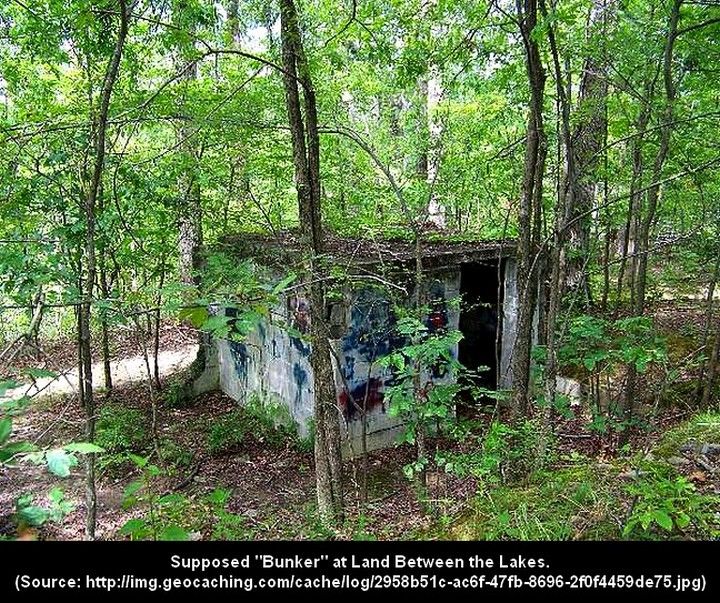 This cache is located within site of the alleged bunkers. As you walk down the old road from the cemetery you will see concrete structures evident along the road and in the woods throughout this area. To visit the site where the family was supposedly killed continue down the old road, past the bunkers, to the lake. The cache site can also be reached by a short bike ride along the Canal Loop Trail from the Visitors Center.



The cache is not in or near any remnants of a structure and it is not necessary to go near the structures to find the cache. Some of these structures have access hole in the tops that a person could be injured if they fell into them, so do not walk on and be careful near any structures you find here or anywhere in LBL. It is forbidden to drive off of un-maintained roads so if by chance the gate is open YOU are not allowed to drive on this or any road that is not clearly marked with a road number.
ON THE DARK SIDE

LAND BETWEEN THE LAKES - AFTER DARK

Land Between The Lakes is located in Western Kentucky and Tennessee. It's basically a huge wildlife refuge, with nothing but forests and undeveloped shoreline. There aren't residential areas or businesses located in LBL.
Really, after dark LBL is spooky. You can go out there in a car, turn off the headlights, and you are in total darkness. You won't see any lights out there.
There have been many reports of things not in this world out there. There have also been reports of weird creatures and evil spirits.
There have been many reports of red eyes in LBL. There is a legend that if you see a group of white-tailed deer out there at night, to turn back. They are trying to warn you not to go any further because a "demon" is nearby.
I personally have seen the red eyes. About thirteen years ago, I went out to LBL with a friend. It was night, and we were just driving around. There's something about LBL that makes people want to do that for some reason. Anyhow, we went down one of the side roads that led to an empty area that people use as a campground. There was nobody else out there that night.
He got out of the car to find a tree, which I really though was a bad idea. Before getting out of the car, he turned off his headlights. You couldn't see anything outside the window. Even the moon was dark. He gets out and disappears into the night. While waiting, I looked around and in the distance I saw two red glowing eyes.
As I watched it, it started moving closer. Believe me, I was scared to death. I opened the door, and literally hollered for my friend. He came running, jumped in the car, and got going. When he hopped in, he glanced in the direction and saw exactly what I saw. It was a scary experience. The oddest thing? After turning on the lights, we didn't see anything at all that could have had the red eyes.
A few months later, I went out again to LBL with a group of friends. Once again, it was night. We were riding along, and I started feeling this overwhelming feeling that we needed to get out of there. As we kept driving along, I felt so spooked. The feeling just got stronger and stronger.
Finally, I mentioned something to my friends. Knowing the way that I am, they immediately turned around and we headed back towards the bridge. I cringe to know what would have happened if we hadn't turned around.
The ironic thing is, before writing this post I did a search online. I came across a forum post from a lady that had a similar experience to mine. It really gave me the spooks to see that I'm not the only one.
"We continued our drive deep into Land Between the Lakes, searching for wildlife of any kind. As we drove, I started getting a very funny feeling, but kept it to myself. Little did I know, he was having the same feeling. At one point, he mentioned that the hair was raising on his arms and he felt that something wasn't right. "
There is a lady named Jan who has written a very extensive article on the Beast of LBL. She is from the area, and her page is updated. It's really a creepy and scary tale that is based on her true experience. [Cryptozoologist's Note: To read Jan Thompson's accounts of the Beast of LBL, see my previous blog post, "The Beast of Land Between the Lakes - Part 1"]
Last but not least, is how Roderick Justin Ferrell used a structure in LBL as his vampire hotel. He made world news for his arrest after murdering the parents of his friend. He believed that he was a vampire and a leader of the vampire clan. Ferrell told people that he was a 500-year-old vampire named Vesago.
This clan used a structure in LBL, and called it the "Vampire Hotel". The oddest thing about this was that I could find only one picture of this online. After the story broke, officials made every effort to make this place disappear. They closed the road, and the location is pretty much secret now. Some sources say it has been demolished.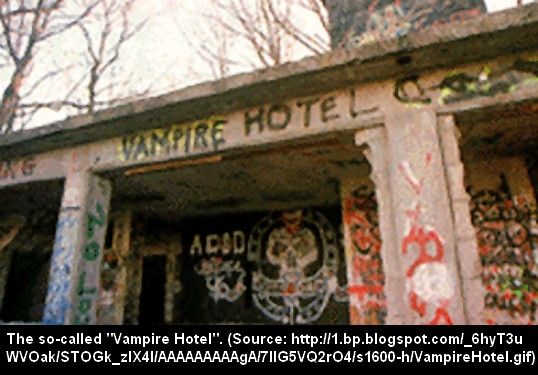 LBL can be a spooky place. Should you ever find yourself in Western Kentucky, you might find it worth the trip to travel through it at night. You might end up having your own horror story to share.