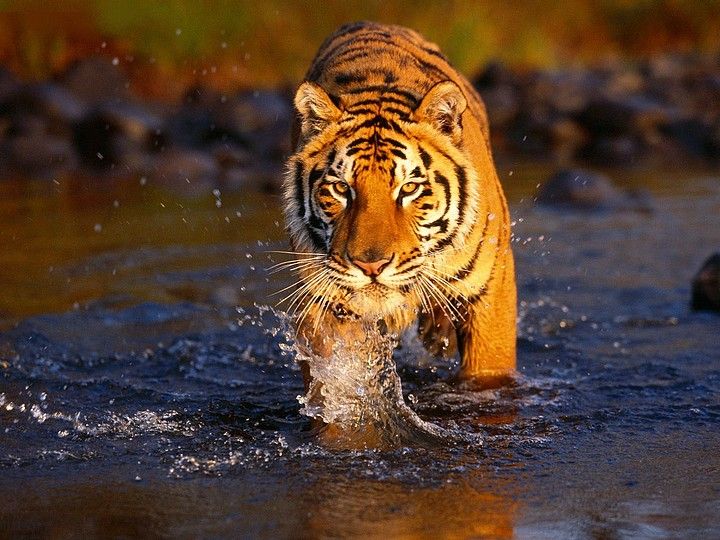 TIGERS BUTCHERED FOR "TRADE" AT ZOOS IN CHINA?
First posted on March 4, 2010
Researched, Compiled, Edited, and Illustrated
By R. Merrill
FEEDING THE TIGERS OR FEEDING "ON" THE TIGERS?
December 29, 2009—Many Chinese tourist attractions secretly operate as fronts for illegal tiger farming, butchering captive tigers for their parts, National Geographic magazine reports in the January 2010 story "Asia's Wildlife Trade."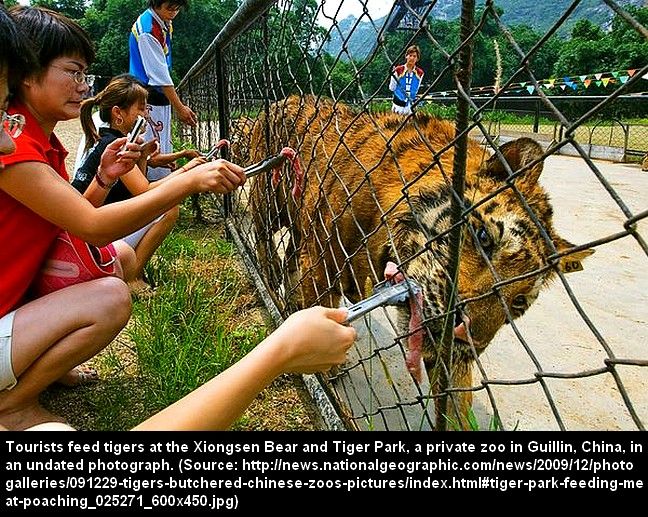 On the eve of 2010—the Year of the Tiger in Chinese astrology—the big cats remained highly coveted. A dead adult male can sell for U.S. $10,000 or more on the black market. Tiger bones and penises are often used in traditional medicines, and some restaurants serve tiger meat, including, a recent DNA test suggests, the restaurant at Xiongsen Bear and Tiger Park, according to a National Geographic magazine article.
At the Xiongsen Bear and Tiger Park in Guillin, China, some of the park's 1,300 tigers and 400 bears perform in daily shows.
The park was lobbying to ease regulations on China's then 16-year-old ban in trading tiger parts—which would be to their benefit. Xiongsen owns a nearby distillery that produces tiger-bone wine, called the chicken soup of Chinese medicine.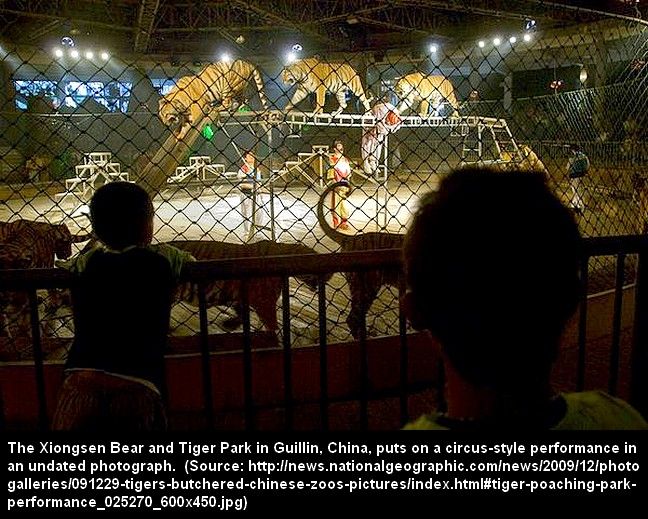 But conservationists fear that any form of legal tiger trade would further endanger the fewer than 4,000 tigers that still roam free, the magazine reported. For instance, just as legalizing ivory sales has not helped to slow illegal poaching of elephants, legalizing tiger products may only increase demand for tiger parts—both wild and farmed, conservationists say.
A collection of medicines claiming to contain wild animal parts was acquired in Malaysia by the wildlife trade monitoring organization TRAFFIC. Mostly of Chinese origin, the products are made mainly of tigers but also of antelope, pangolins, and other species.
Exotic animal parts are also symbols of status and prosperity. Until 2005, Tibetan ceremonial robes, or chubas, were trimmed with snow leopard or otter fur, for example. And in China the rise of the middle class means that shark-fin soup, seen as a delicacy, is now being consumed by the masses, conservationists say.
Wildlife trafficking has thrived thanks to a loophole in the Convention on International Trade in Endangered Species of Wild Fauna and Flora (CITES), which allows the trade of captive animals, experts say. Many smugglers have established fake breeding facilities, where poached wild animals and plants are captive bred.
More than 13 million live animals from protected species were legally exported from Southeast Asia between 2000 and 2007, most of them going to the United States. However, legal trade dwarfs the profitable illicit market that operates in its shadow.