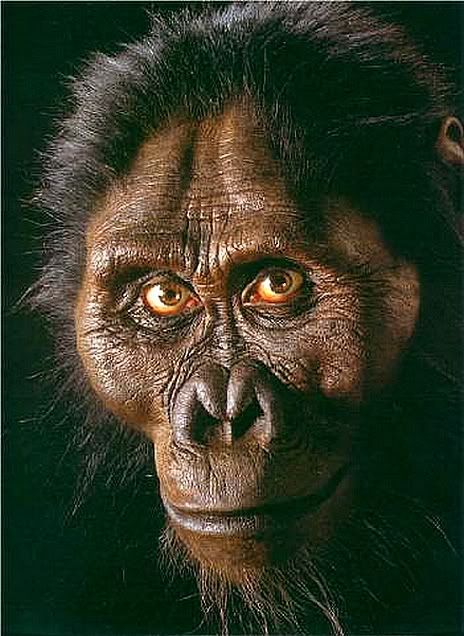 MYSTERY PRIMATES—LEMUR, MONKEY, APE AND HUMAN HYBRIDS
Primates (Excluding Humans)
In The Variation Of Animals And Plants Under Domestication Charles Darwin noted: "Several members of the family of Lemurs have produced hybrids in the Zoological Gardens."
In the primates, many Gibbons are hard to visually identify and are identified by their song. This has led to hybrids in zoos where the Gibbons were misidentified. For example, some collections could not distinguish between Javan Gibbons, Lar Gibbons or Hoolocks and their supposedly pure breeding pairs were mixed pairs or hybrids from previous mixed pairs. Agile gibbons have also interbred with these. The offspring were sent to other Gibbon breeders and led to further hybridization in captive Gibbons. Hybrids also occur in wild Gibbons where the ranges overlap. Gibbon/Siamang hybrids have occurred in captivity—a female Siamang produced hybrid "Siabon" offspring on 2 occasions when housed with a male Gibbon; one hybrid survived, the other didn't.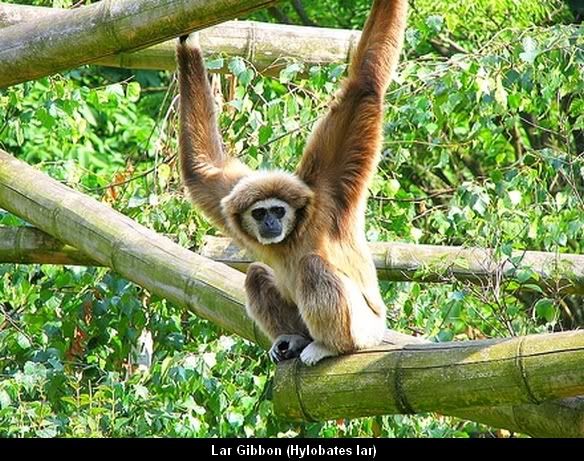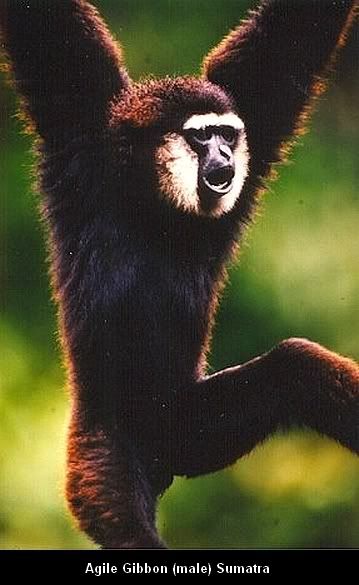 Anubis Baboons and Hamadryas Baboons have hybridized in the wild where their ranges meet. Different Macaque species can interbreed. In The Variation Of Animals And Plants Under Domestication Charles Darwin wrote: "A Macacus, according to Flourens, bred in Paris; and more than one species of this genus has produced young in London, especially the Macacus rhesus, which everywhere shows a special capacity to breed under confinement. Hybrids have been produced both in Paris and London from this same genus." In addition, the Rheboon is a captive-bred Rhesus Macaque/Hamadryas Baboon hybrid with a baboon-like body shape and Macaque-like tail.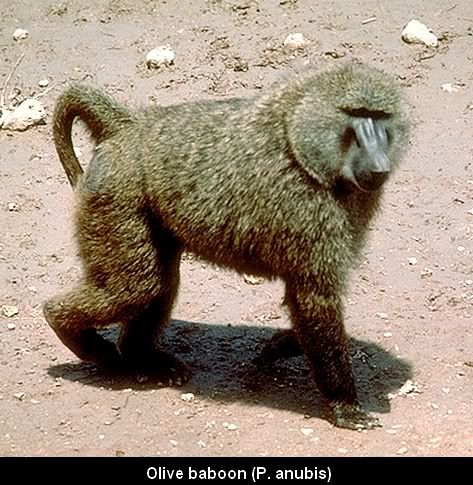 Various hybrid monkeys are bred within the pet trade. These include hybrid Capuchins e.g. Tufted (Cebus apella) x Wedge-capped/weeper (C. olivaceus); Liontail macaque X Pigtail macaque hybrids and Rhesus x Stumptail hybrids. The Japanese macaque (Macaca fuscata) has interbred with the introduced Taiwanese macacque (M. cyclopis); the latter has escaped into the wild from private zoos. Among African monkeys, natural hybridization is not uncommon. There numerous field reports of hybrid monkeys and detailed studies of zones where species overlap and hybrids occur. Among the apes, Sumatran and Bornean orangutans are separate species with anatomical differences, producing sterile hybrids. Hybrid orangutans are genetically weaker with lower survival rates than pure animals.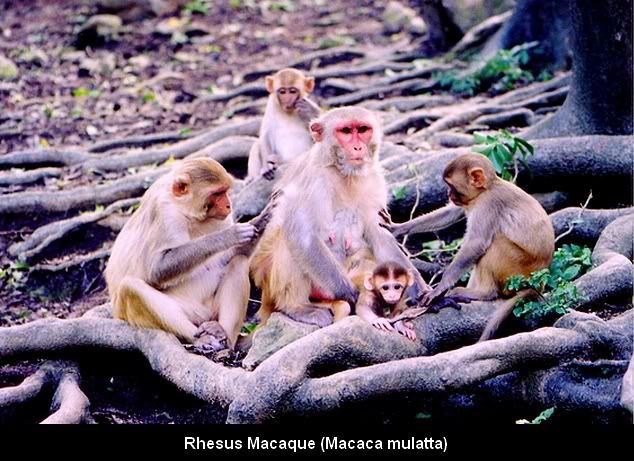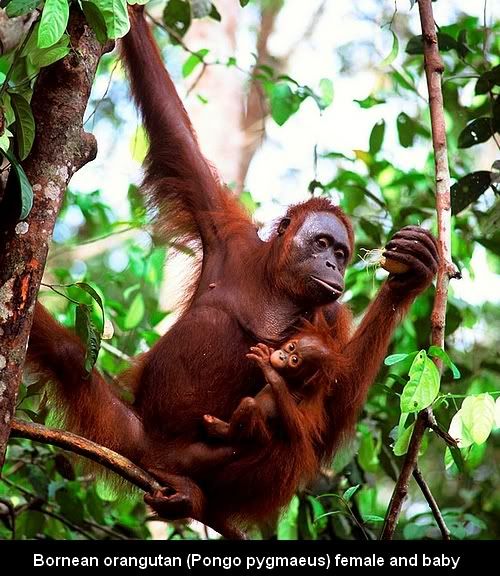 LARGE CHIMPANZEES WITH GORILLA-LIKE CULTURE
The Bili or Bondo Mystery Ape
Some locals said they were eight feet tall and weighed 280 pounds. Others claimed they were even bigger, equipped with huge flesh-ripping teeth and muscles capable of dismembering a man. Forest dwellers told visiting explorers and scientists of a ferocious gray ape, with the cunning of a chimpanzee and the power and size of a gorilla—and a taste for meat rather than the shrubbery loved by most apes. For, unlike most apes, these were predators—capable of hunting not only forest antelope but, incredibly, lion and leopard too. And to cap it all, like wolves, these fearsome beasts howled at the Moon.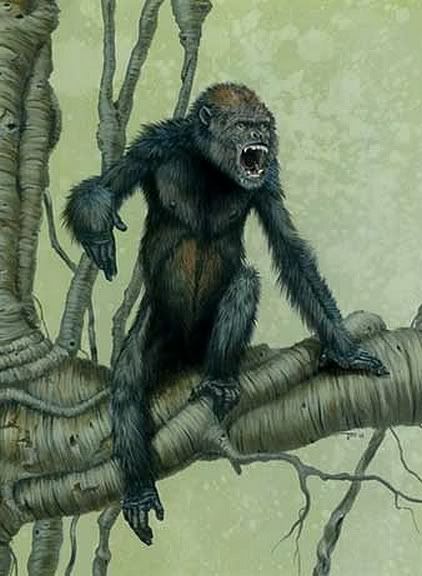 The giant lion-eating ape of the Congo, known 'officially' as the Bili Ape or Bondo Mystery Ape, was one of those creatures that for decades sat on the knife-edge that divides myth and scientific respectability.
Skeptics said giant, lion-eating primates were no more than a fairy tale, a by-product of the sheer size and remoteness of Africa's largest, most lawless, unexplored and war-torn region, into which any number of fictional monsters could be placed by an overactive imagination. Indeed, the "Congolese super-ape", a gray-furred, ferocious man-eating carnivore, starred in Michael Crichton's 1980 sci-fi thriller Congo, and cryptozoologists also spoke of Mokele-mbembe, Africa's Loch Ness monster, a dinosaur purported to survive in the Congolese forests.
And yet, despite the aura of mythology that surrounded these improbable creatures, many scientists believed that something new and unusual did indeed live in the impenetrable forests of Africa's Heart of Darkness. In particular, the locals' tales about the giant, unusual apes which had been noted by Western explorers since the late 1890s were simply too similar, too coherent, to be dismissed as fanciful exaggeration. And now, it seems that the Congolese mystery ape has finally come into the spotlight of scientific respectability. At last, a group of researchers has succeeded in studying these animals first-hand over a long period, and has not only confirmed their existence, but also described a fascinating animal about whom not all the myths are true, and yet which lives up to—in some respects—its legendary reputation.
Over the decades of primatology in Africa, there have been reports of large chimpanzees with an anomalous appearance and/or culture put under the label Koolokamba or a variation of it. Recent work by Swiss researcher Karl Ammann and others have provided a great deal of information on this unique population. Swiss scientist Charles Cordier found 12-inch-long footprints (gorilla-sized) in the Congo 100 years ago, and identical ones have shown up again recently. Several skulls taken in 1996 from the Bondo were shown to be typical of chimpanzee skulls except for sagittal crests typically only found on gorillas.
While some individuals sleep in trees like normal chimpanzees, others dwell in ground nests more like gorillas. The behavior is not totally unknown in chimpanzees, but is regarded as unusual due to the presence of several large predators like leopards, lions, and hyenas in the area. Very large dung samples collected near the nests show structures called "hostra rings" more commonly found in gorilla dung. Behavior more typical of chimpanzees includes the use of tools to catch ants, and the construction of leaf cushions.
Behavior previously not seen in either chimpanzees includes the use of rocks to smash beehives for honey, and reports of them catching turtles and even fish. When a researcher named Cleve Hicks from the University of Amsterdam spent 18 months observing the Bili apes at close quarters, what he found was intriguing—a population of extremely large chimpanzees with their own distinct 'culture' and, indeed, a liking for the meat of big cats. One was seen scavenging on the carcass of a leopard, although it is not known if the ape had killed the cat.
The males of the species appear to be very large as demonstrated by field observations, very large footprints (12-14 inches), and several huge carcasses. Males tend to dwell on the ground and be very shy (possibly due to the predators), and females dwell in trees like typical chimpanzees. Females appear to be more normal-sized, although a very old female named Caroline was large enough to be mistaken for a large male. Caroline and other old female Bili chimpanzees have a baldness pattern similar to "male pattern baldness" in humans. Skin coloration varies from black to white within the population, and hair color varies from black to gray. Despite their appearance and behavior, genetic tests done on dung and hair samples indicate that they are not hybrid, new species, or even new subspecies; the differences appear to be mostly cultural.
The males appear to occupy a gorilla-like niche on the ground, but the females tend to act like conventional chimpanzees. Analysis of the DNA also showed that the population appeared to be extremely inbred and showed none of the genetic variation shown in every other chimpanzee population.
Perhaps the main difference between these animals and other chimpanzees is their fearlessness of humans. Most chimps instinctively flee when they catch sight of a man; these animals approached the scientists and their staff with a degree of curiosity.
There is some controversy involved in this case. One of the researchers, Dr. Shelley Williams, made several claims about the population circulated in the press which have been disputed by Ammann. She said that images of the animal, captured in a video, showed that it looked like neither a gorilla or chimpanzee, whereas the animals Ammann and his team observed were clearly large chimpanzees. She also made the claim that the animals were aggressive "lion eaters" or "lion beaters" (press articles inconsistent), but Ammann and others assert that the males are actually very shy. Williams also related an account of the apes walking bipedally and standing over 6 feet tall, but again Ammann asserts that the apes, while big, are not as large as gorillas. Williams has not responded to any of the criticism, and unless she provides harder evidence, it is difficult to take her claims seriously.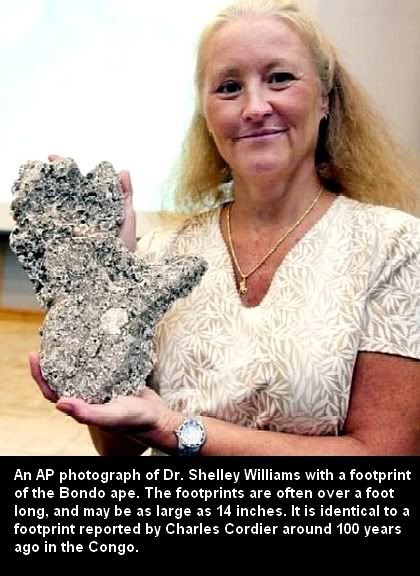 While these animals have been documented by Cryptozoologists, they were never thoroughly researched, and there appears to be no reference to one being regarded as a "cryptid" before the discovery. While this isn't a new species or a discovered cryptid, it still is a fascinating find. It demonstrates that even in the 21st Century there are still some things we don't know about large animals, and it makes the concept of Cryptozoology more plausible.
Also interesting is that Cordier's footprint shows not only that early accounts can be accurate, but that this population, evidently very inbred, has been around for a very long time. Cordier also described two other anomalous footprints, although they do not seem to have reappeared recently, if at all. There seems to be no information on when and where he located the footprint, and it would be interesting to see if the apes occur in other locations. This find is also important for showing that known species can show a huge amount of behavioral, cultural, and even physical variation even though there is not much genetic change. That concept should be kept in mind when dealing with the other mystery primates covered in the context. While no new species or subspecies will be discovered by researching this species, the research has only begun and a lot of questions need to be answered about this and other anomalous chimpanzees. After all, it was in the forests of Central Africa that one of the most startling discoveries of modern zoology was made. When sightings of a massive primate living high in the cool mists which drape the volcanic peaks of what are now Rwanda, Uganda and the Congo were mooted in the late 19th century, few took them seriously. Explorers described a powerful yet gentle, celery-munching ape living at altitudes of more than 10,000 ft. But it wasn't until 1902 that Robert von Beringe, a German army officer, made detailed observations of the animal which now bears his name, Gorilla gorilla beringei, the famed mountain gorilla.
Of course, there are implications for Cryptozoology as well. It shows that despite something initially appearing to be a new species, it could end up being more "mundane" but still very interesting.
Koolakamba
While the Bondo mystery apes have been cemented in reality, there are accounts of "Koolakambas" taken around 1860-1890 which look rather different, and have been surmised to be a Gorilla/Chimp hybrid. P. B. DuChaillu was the second person to refer to this animal (the first was by the Frenchman Franquet in 1852) and he used folk taxonomy to differentiate this from the other apes known in the area. His description said that the pelvis was short and broad, the supraorbital ridge was large, the zygomatic ridges were high, the ears were large, the face was somewhat flattened, the incisors met to form a grinding surface, and the cranial capacity was higher than in other chimpanzees. According to DuChaillu, "Kooloo" referred to a sound that this animal made, apparently different from the native apes. "Kamba" simply means "to speak" in the Commi language according to DuChaillu. Animals with an appearance very similar to DuChaillu's description have been reported in captivity in modern times, one of which named Minnie frequently walks bipedally.
Some have suggested that the Koolakambas may also be a mutation, in which case it would be an example of micro-evolution in action. According to von Koppenfels in 1881: "I believe it is proved that there are crosses between the male Troglodytes gorilla and the female Troglodytes niger, but for reasons easily understood, there are none in the opposite direction. I have in my possession positive proof of this. This appears to settle all the questions about the gorilla, chimpanzee, Kooloo Kamba, N'schigo, M'bouve, the Sokos, Baboos, etc". Yerkes reported several "unclassifiable apes" with features intermediate between chimpanzee and gorilla in his 1929 book A Study of Anthropoid Life.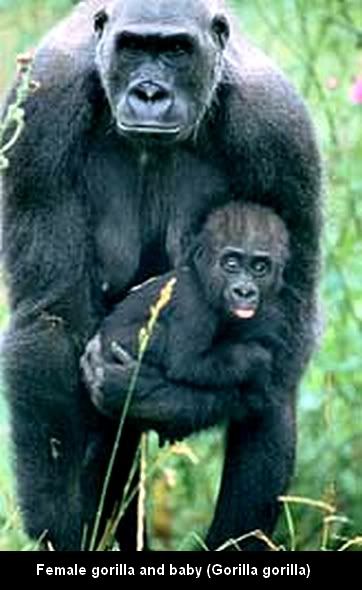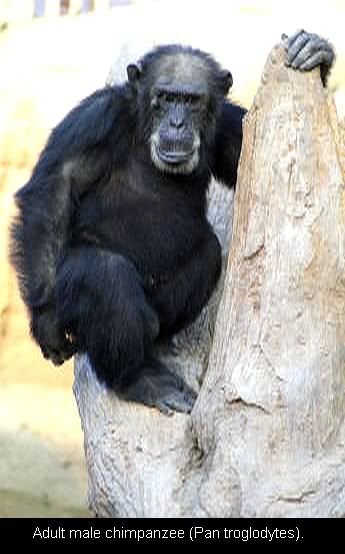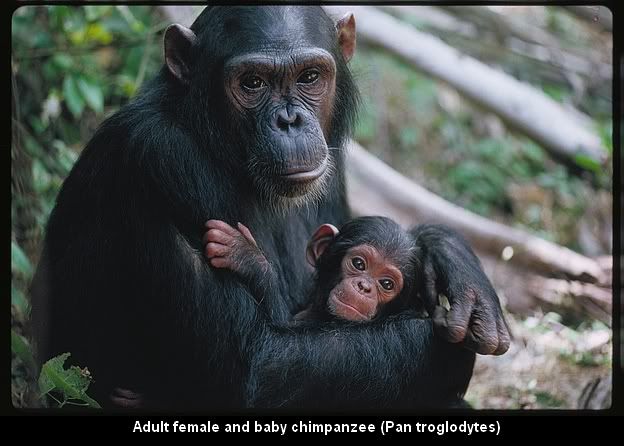 Another researcher named Osman Hill gave a rather contradictory description of the Koolakamba, saying that it had very small gorilla-like ears and a very prognathous face. There do not appear to be any references to this type of Koolakamba being found in zoos.
Some have criticized DuChaillu's description on the basis that he used folk taxonomy that, unlike Linnean taxonomy, could consider individual variation a certain "type". It is speculated that this Koolakamba is a variation of the Lower Guinea chimpanzee (Pan troglodytes troglodytes). Du Chaillu's description is, however, considered accurate since many of his other descriptions were quite accurate for the time. For both of these Koolakambas, there has been speculation that they are gorilla/chimpanzee hybrids, much like the Bondo apes.
It is doubtful that a chimpanzee/gorilla hybrid could start a viable population (they would have to be the same species), and so, much like the Bondo "Koolakambas", these animals seem to reflect population variation in the chimpanzee. Perhaps Osman Hill's animal reflects a small population which went extinct or into hiding, but there is still a chance that it is based on a few anomalous individuals. DuChaillu's animal seems much more common, and thus less likely to be individual variation and more likely to be a distinct population. The mingling and breeding with normal chimpanzees in captivity would be suggestive that the two are very similar, but zoo animals may not always display "natural" breeding behavior. Dr. Williams' account seems to match DuChaillu's (flat face, bipedal tendencies) better than Ammann's, but the significance of this is not readily apparent. Was DuChaillu's animal wide ranging, or does it represent a parallel adaptation in a different subspecies? Hopefully, research into the Bondo mystery ape will help to clarify these other Koolakambas.
According to Mark Hall's book Yeti, Bigfoot, and True Giants, Cordier collected folklore from the Eastern Belgian Congo about a bipedal, herbivorous, man-size (or bigger) ape which curiously had the same taste for honey as the Bili ape.
Assuming the bipedal trait was exaggerated, this vaguely sounds like it could be another ape along the lines of the Bili ape/Koolakamba. An illustration of a footprint collected by Cordier and illustrated in Sanderson and Hall's respective books looks curiously similar to a Bili ape footprint in that it seems long and narrow with a rather far set-back thumb.
Garner (1896) wrote that an ape called Mafuca exhibited at Dresden Zoo in 1875 was sometimes described as a cross between chimpanzee and gorilla. Different experts identified her as a chimpanzee or as a young gorilla."It would be difficult to believe that two apes of different species in a wild state would cross, but to believe that two that belonged to different genera would do so is even more illogical. Yerkes (1929) reported the case of adult female Johanna of Lisbon, whom Duckworth (1899) considered an unclassifiable ape intermediate between gorilla and chimpanzee and similar to the "Kulu-Kamba" and Mafuca. Others considered Johanna, who had been a performing ape with Barnum and Bailey's Circus, to be a gorilla.
Giant Malawi Chimpanzee (Ufiti, Fireti)
Sightings of a strange chimpanzee occurred around 1959 to 1960 around Lake Nyase, Malawi; which is incredibly strange since the nearest known chimpanzees are over 700 miles away. Around 30 tree nests were discovered, and there were other reports apparently indicating a population. The animal named Ufiti (or "ghost") was photographed and sighted several times, and was said to be enormous and to have a prognathous face. The animal was supposedly captured afterwards and brought to the Chester Zoo where she later died. The chimpanzee had several strange characteristics such as a height nearing 6 feet and a silver back, not to mention her location. Some officials have regarded her as a new chimpanzee subspecies, but no scientific classification exists.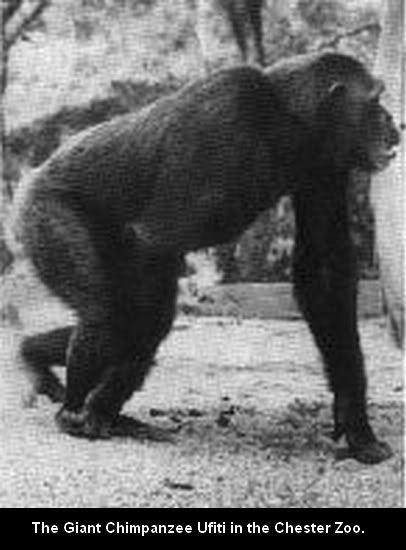 This is a remarkable story, and it seems utterly amazing that she could evade classification in a zoo of all places. Sanderson himself did not mention her capture and life in the zoo, but did mention that harming or capturing the chimpanzee was illegal. Did she arrive after the book was published? Was she ever even in the zoo at all, or was there some sort of mix-up? If the description of her is accurate, she sounds quite a bit like the Bondo apes reported (particularly one large female named Caroline), but several hundred miles away. While the reports seemed to indicate a population, there don't seem to have been any reports of the animals since Ufiti's alleged capture. The theoretical population itself could have been a new subspecies, but it could also still be an anomalous population like the chimpanzees with the gorilla-like culture. If there is indeed a carcass preserved in a zoo, that would be worth checking out, but it remains questionable how accurately the story of the anomalous Ufiti has been told.
Large Bipedal Ape: (Kikomba, Apamandi, Abamaanji, Zaluzugu, Tshingombe, Ngoloko, Milhoi, Muhalu, African "bigfoot")
Central Africa has very sporatic reports of apes or ape-like creatures distinguished by a bipedal gait. The reports are so rare, in fact, that in Ivan Sanderson's Abominable Snowmen book he essentially declared that Africa was apparently devoid of such creatures. But some reports have been recorded since the publication of the book. Tracks attributed to the animal have been found and supposedly indicate an ability to run or even jump bipedally. The face is ape-like and grays with age like other hominids.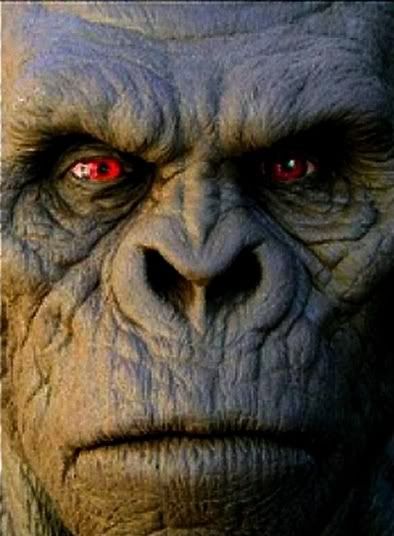 One report of a strange bipedal creature from Kenya has been lumped into this category, despite showing many strange characteristics. It measured eight feet long when stretched out dead, was as large as two people, and smelled awful. It was covered in gray hair three feet long near the head or top of the body. The ape-like face had a receding chin and forehead, large eyes, and a small mouth with big teeth. Oddly, it possessed very large, flapping elephantine ears. Even more bizarrely, the feet had an opposable thumb with three other toes and the hands had a thumb and an index finger with a 2.5-3 inch claw. Reports of similarly sized hairy bipeds, none mentioning the bizarre hands, feet, or ears, occured in the Congo until the early 1960's.
Until there are more accounts of this animal, it should probably be taken very critically. The description of the animal, aside from that absurd report from Kenya, are very vague and don't provide much to work with. They could very well be due to misinterpreted reports of known apes behaving strangely. Charles Cordier has a (partial?) footprint supposedly from the "Apamandi" which does indeed look rather unique, but that is some very vague evidence. There is always the chance that the apes represent another inbred, strangely-behaving colony of apes like the Koolokamba, but don't bet on it.
As for the Kenya report, which should probably be dealt with separately, it seems that it can safely be discounted. Even if the reports of the creature are vague, surely someone would have noticed the utterly bizarre anatomy! There are so many improbable features on this creature, it couldn't possibly be a mutant, so if this thing was real there has to be a whole colony looking like this. Exactly what good does three foot long hair do in a jungle climate? Why would a primate evolve lobster claws? Why would something that big be a biped when a quadrupedal stance would offer much more stability? To make matters more complicated, modern day sightings of these animals seem to have stopped at around 1960, except for perhaps the recent reports of Bili. Hopefully further research on the Koolokamba apes will help determine the relationship between these sightings.
Tano Giant
The Tano Giant was seen in the Gold Coast sometime before 1911. It was described as a "white ape of extroardinary stature" that was "past all men" in size. It's arms alone were reportedly as thick as a man. The skin was described as being white, but the hair was black. The head was flattened and oddly described as being the size of a large monkey's. The mouth was monkey-like and had big teeth. Despite not having thumbs, the giant supposedly kept the skin of a bush cow to wrap itself in when it got cold. Its habits were extremely aggressive, it carried off one woman and several children, who were later found disembowled and mutilated. It also supposedly broke the gun of a hunter. The only thing that scared it away was fire.
This story closely resembles tales across the world of cannibalistic giants, and may have no more basis in reality than Grendel or any other similar tale. It seems almost certain that this is a complete invention, but it could have a very tenuous base in reality. Perhaps a belligerent Western chimpanzee once attacked a few people and the story became warped with time. Or perhaps there never was an attack, and it was just a story attributed to a little-known species in the same way that early reports portrayed the gorilla as an ogre-like creature. It certainly sounds like something out of a bad adventure story.
The only reason it is mentioned here is because it could possibly have some connection with chimpanzees or maybe even the bizarre bipedal apes reported. But it seems safe to say that Karl Ammann is not going to find this walking around in the jungle.
Bipedal Pygmy (Agogwe, Kakundakari, Doku, Mau, Mberikimo, Chimanimani, Tokoleshe, Abonsei, Ijimere, Sehite)
This animal, commonly refered to as an agogwe, is a small ape-like biped inhabiting Central Africa between the Kalahari and Sahara deserts. The agogwe is said to stand around 2 to 4 feet tall and its footprints (with an opposable toe) are a mere five inches in length. Marked differences between it and known apes include a rounded forehead, small canines, long red hair, and yellowish red skin. Rather oddly, it forms what may be a symbiotic relationship with baboons. Other reports describe the creatures as cave-dwellers. The animal was a topic of discussion in the 1920's, but its popularity has subsequently diminished.
The most common theory on the pygmies is that they are Australopithecines. Footprints did have a somewhat diverged toe (far from opposable though) and the overall height and description fit. Other individuals have suggested that they are actual human pygmies, but extremely atavistic, or possibly misunderstood, ones.
After the discovery of late-surviving dwarf hominids called "hobbits" on Flores in Asia, the concept of late-surviving pygmies has become much more conceivable. Though a world away, Africa may be an even more plausible place for such a species to still be roaming. However, tales of the pygmies could possibly be based on known anthropoids that the natives were not familiar with. Two other possibilities should also be considered. The first is the possible survival of gibbons in Africa. Gibbons are called "lesser apes" and are small, tail-less, and habitual bipeds with a rounded forehead and small canines. The biggest problem is that gibbons rarely walk on solid land and mainly locomote with their arms. Another possibility is that a chimpanzee has adapted towards open country and has filled an Australopithecine-like niche the same way the Koolokamba chimpanzees filled a gorilla-like niche. It's a fairly long shot, but it is not totally beyond conception.
However, the reports do admittedly sound very much like an Australopithecine, or possibly a dwarf form of Homo erectus. The fact that these animals haven't been reported any more for decades is a significant problem, and like other creatures discussed here, they may have gone extinct (assuming they existed) before they were ever described. Alternately, the lack of a European colonial presence may make it much more difficult for reports to come out. It still seems doubtful that anything is behind these reports, but if there ever was or is, an ancient hominid would probably be the best candidate.
HUMANZEES (AND OTHER CLAIMED HUMAN HYBRIDS)
A reputed "humanzee" (human/chimp hybrid) called Oliver was DNA tested and found to be a chimpanzee, albeit one which differed slightly genetically from the more familiar chimps in being bipedal and having a smaller head. Oliver may have been a mutant or represent an unknown species of ape. It is currently believed that he represents a geographical subspecies of chimpanzee. He did not associate with other chimps in captivity and was sexually attracted to human women instead. This meant he was never bred. Oliver's habitual bipedal gait is now believed to be a result of early training and habit, although he mastered it to a greater degree than most trained chimps. In a publicity event, a woman declared her willingness to be inseminated by Oliver (and even to have the mating filmed for scientific purposes), but this offended public sensibilities and did not happen. Had Oliver been a genuine hybrid, then like most male hybrids he would probably have been sterile.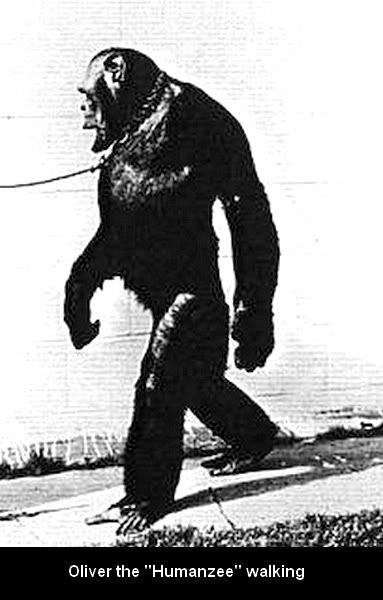 However, the behaviors and physical characteristics which led to so much speculation and controversy regarding Oliver's origins, are not totally unique among the apes. Everyone is familiar with the comparisons between humans and our so-called "closest cousins"—chimpanzees, gorillas, and orangutans. But has anyone ever heard of bonobos? If not, don't feel left out. Even one of the top bonobo researchers in the world says that in the minds of most people, bonobos don't really exist. But the wilds of the Congo region of Africa suggest otherwise. Estimates suggest between 5,000 and 25,000 of the peaceful primates live there.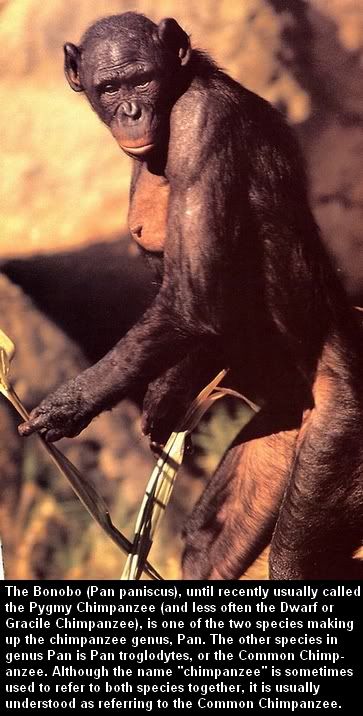 Dr. Frans de Waal, director of the Living Links program at the Yerkes Primate Center in Atlanta and author of Bonobo: The Forgotten Ape, is one researcher who is looking into the human-like behavior of the little-known primates. "Studies on bonobos started much later than on the other ape species and fewer people were involved in them," de Waal points out. "So as a result, we knew less about them. The chimpanzee has been known for centuries, but the bonobo has been set apart from the chimpanzee only since the 1930s." Add to that the fact that their remote habitat in a politically unstable part of Africa makes it doubly difficult to study them in the field. But there's no denying that a number of things have surfaced recently that makes them much more than a passing curiosity.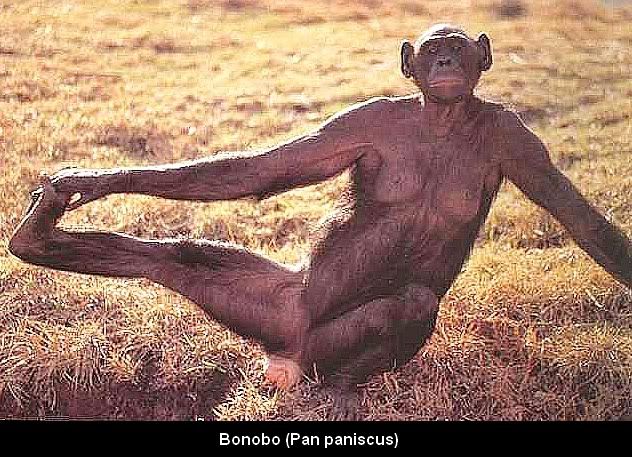 While they may appear chimpanzee-like to the untrained eye, bonobos are different. "In terms of body mass, they are very similar to chimpanzees," de Waal explains. "But they're much more graceful. They have longer legs, they're slender, they don't have the huge shoulders and thick neck [of chimps], and they have a smaller head. They're also more elegantly built and move more elegantly than chimps. And when the bonobos stand upright, they look very human-like because they have these different body proportions." It's their social behavior, however, that's the real pièce de résistance.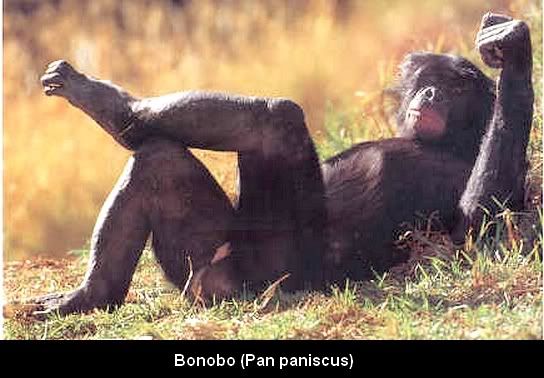 "In terms of social behavior, bonobos are almost the opposite of the chimpanzee in that they're relatively peaceful," de Waal remarks. "As far as we know, they don't have inter-group warfare going on, they eat a little bit of meat but much less than chimpanzees, and they're not great hunters." But here's where it gets interesting: "Male dominance is not there. It's rather the opposite where females dominate the show." And it doesn't stop there!
"They seem to resolve a lot of their conflicts with sexual behaviour," he says. "If two bonobos have a fight, they may make up with a sexual reconciliation, which is typical for their species. So there's a lot of sexual activity that goes on that has more social meaning than reproductive meaning." Their sexuality also mirrors humans in a couple of other ways.
"Bonobos have a greater variety of sexual postures," he reveals. "The bonobos can do it any way they want—and they can do it face to face also. So positionally—so to speak—they have a richer repertoire. And their sexual behaviour is not just male to female. It's also female-to-female and male-to-male and male-to-juvenile." In fact, they make the human sexual revolution of the sixties and seventies look tame.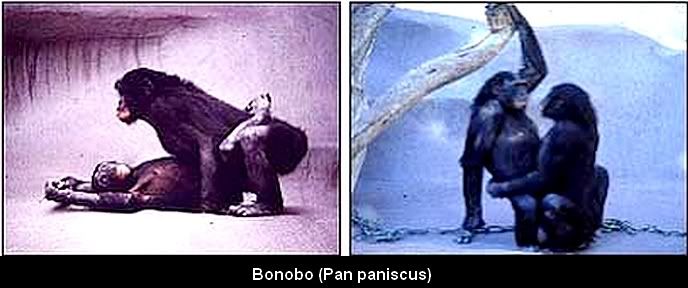 Soviet Professor Ilya Ivanov attempted to create a human-ape hybrid using female chimps impregnated with human sperm and women volunteers impregnated with chimp sperm. Ivanov's experiments have been documented by Kirill Rossiianov (Institute for the History of Science and Technology of the Academy of Sciences, Moscow), "Beyond Species: Ilya Ivanov and His Experiments on Cross-Breeding Humans with Anthropoid Apes," Science in Context, 2002, p. 277-316.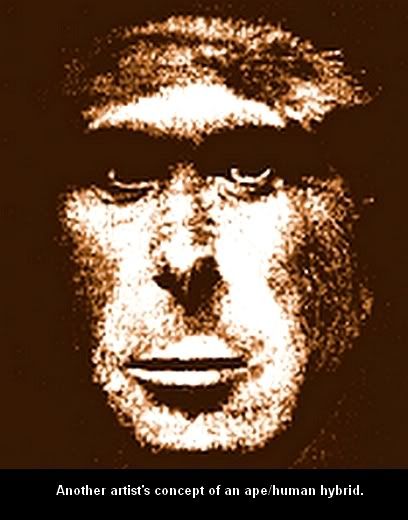 In a presentation to the World Congress of Zoologists in Graz in 1910, he outlined the possibility of using artificial insemination to create a hybrid. In 1924, while working at the Pasteur Institute in Paris, Ivanov gained permission from the Institute's directors to use its experimental primate station in Kindia, French Guinea, for his hybridization experiments. He requested backing for this project from the Soviet government, writing to Soviet officials including the People's Commissar on Education and Science Anatoliy Vasilievich Lunacharsky. In September 1925, Nikolai Petrovich Gorbunov, head of the Department of Scientific Institutions helped allocate $10,000 to the Academy of Sciences for Ivanov's human-ape hybridization experiments in Africa.
In March 1926 Ivanov arrived at the Kindia facility, but left after a month because the facility had no sexually mature chimpanzees. Ivanov attempted to organize the insemination of human females with chimpanzee sperm in Guinea, but the French colonial government objected to the proposal. There is no evidence such an experiment was arranged there. Back in France he corresponded with French Guinea's colonial governor and arranged to conduct his experiments at the botanical gardens in Conakry. Ivanov, assisted by his son (also called Ilya), went to Conakry in November 1926 where he oversaw the capture of adult chimpanzees in the interior of the colony. These were caged at the botanical gardens in Conakry.
On February 28, 1927, Ivanov artificially inseminated 2 female chimps with human sperm (not sourced from him or his son). On June 25, he injected a third chimpanzee with human sperm. The Ivanovs left Africa in July 1927 with 13 chimps, including the 3 artificially inseminated females. They already knew that the first 2 chimps had not conceived. The third died in France and was also found not to have conceived. The remaining 10 chimps went to the Sukhumi primate station.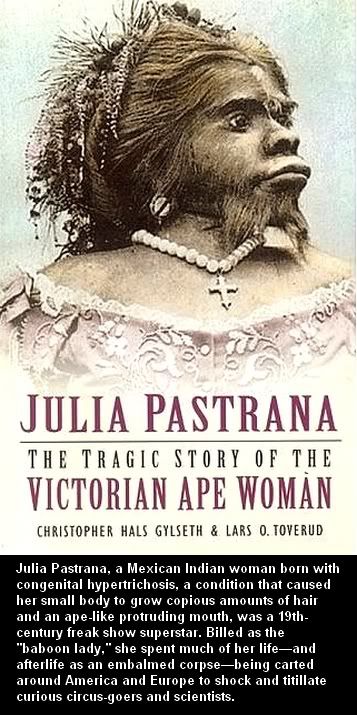 Ivanov returned to the Soviet Union in 1927 and attempted to organize experiments at Sukhumi using ape sperm and human females. In 1929, with the help of Gorbunov, he gained the support of the Society of Materialist Biologists (a group associated with the Communist Academy). In Spring 1929 the Society set up a commission to plan Ivanov's experiments at Sukhumi. They required at least 5 volunteer women for the project. In June 1929, before any inseminations had taken place, the only sexually mature ape remaining at Sukhumi (an orangutan) had died. A new set of chimps would not arrive at Sukhumi until Summer 1930. That year, a political shakeup in the Soviet scientific world resulted in Gorbunov and several other Sukhumi scientists losing their positions. In Spring 1930 Ivanov came under political criticism and on December 13, 1930 he was arrested and exiled to Alma Ata, where he died in 1932.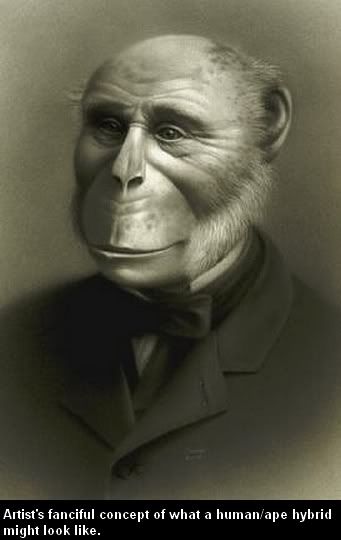 There have been persistent rumours of a Chinese humanzee experiment; the rumoured 3 month fetus died when the mother was killed during civil unrest. There are similar rumours of a humanzee or manpanzee experiment in the USA. In the 1960s there were persistent rumours of a Russian experiment to inseminate either a female chimpanzee or a female gorilla with human sperm. Bernard Grizmek, former Frankfurt Zoo director, wrote of rumors from the Soviet Union that the Russians had created a human/chimpanzee hybrid (probably a misreporting of Ilya Ivanov's experiments). More recently, a news story claimed that Stalin ordered his scientists to create an army of human/ape hybrids, because they would be less fussy about what they ate. Though nothing came of this, it may have been the origin of the rumors.
According to a tale by Peter Damain in the 11th century story De bono religiosi status et variorum animatium tropolagia, Count Gulielmus had both a pet ape and a wanton wife. The woman was so wanton that she allowed the ape to become her lover. The ape became jealous of the Count and when it found him lying with the Countess, the ape attacked him. The Count died of his grievous injuries. Damain had learned of this from Pope Alexander II. The pope had shown Damain a monster that was supposedly the result of the ape mating with the woman. This ape-like boy was called Maimo after his simian father. If Maimo did exist, he was most likely a physically and mentally handicapped child.
In the 19th century, a Khoisan (Hottentot) woman called Saartjie Baartman was exhibited in Europe in a cage. Black women with enlarged labia and enlarged buttocks were sometimes deemed evidence of chimp/human hybridization; such hybrids being called a "womanzee". This was based on the supposed resemblance of their genitalia to those of female chimps and fitted with the then prevalent opinion that Blacks were inferior, or less evolved, than Europeans. Enlarged buttocks occur due to a condition called steatopygia (extreme accumulation of fat on the buttocks), while enlarged labia, or "Hottentot Apron" can be either inherited or induced/enhanced by manual stretching (in some regions they were considered attractive). Neither trait is due to hybridization.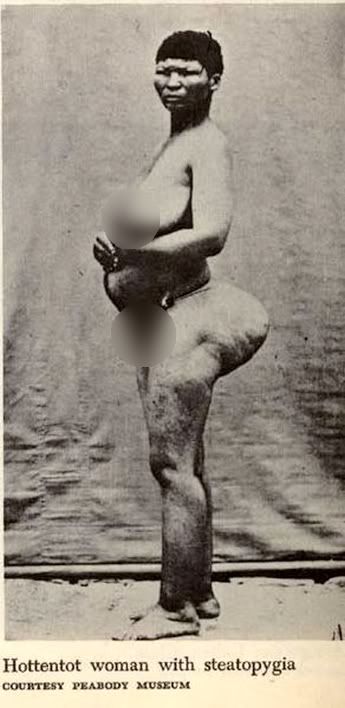 The idea of human/ape hybrids has fascinated people and resulted in several films or TV series, some exploring whether such hybrids would have "human rights" or simply be experimental animals for use in vivisection. It is only a matter of time before curiosity overcomes ethics and an authenticated attempt is made.
Sources
http://www.messybeast.com/genetics/hybrid-primates.htm
http://www.yahooka.com/forum/higher-thoughts/85449-closer-than-chimps.html
http://www.geocities.com/capedrevenger/ape.html